Remo Brings Drumming to Fifth Graders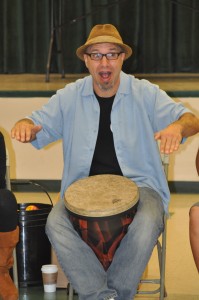 Remo recently visited local elementary schools to bring the benefits of drumming to fifth graders in Santa Clarita and Canyon Country, California. Mike DeMenno, Manager of the Remo Recreational Music Center, went to these locations to implement the Beat the Odds protocol with a variety of rhythmic activities and educational information about the origin of drums. Beat the Odds, a social and emotional skill-building program delivered in a framework of drumming, has shown, through UCLA research, that it can significantly reduce a spectrum of behavior problems in children.
"So far, the response has been unbelievable," says DeMenno. "The kids want to know if they can have drumming every week. The teachers also enjoy watching the kids transform from being shy and inhibited to rocking and rolling with big smiles."
At the Remo Recreational Music Center (RMC) in North Hollywood, CA, DeMenno also offers drum circles for autistic kids, teenagers, and adults. Earlier this month he and Chris Ramirez facilitated a drum circle and had great success with the joy and laughter they experienced. Some began smiling, singing, or dancing for the first time. "It really puts things into perspective, and it is quite humbling to do this type work," Mike recalls. "Our drums definitely do so much good that can be life changing. It is out of the mainstream and not very glamorous, but our drums are making such a positive impact." Advertisement
For more information on the Remo Recreational Music Center, visit remormc.com.