Jason Sutter of Marilyn Manson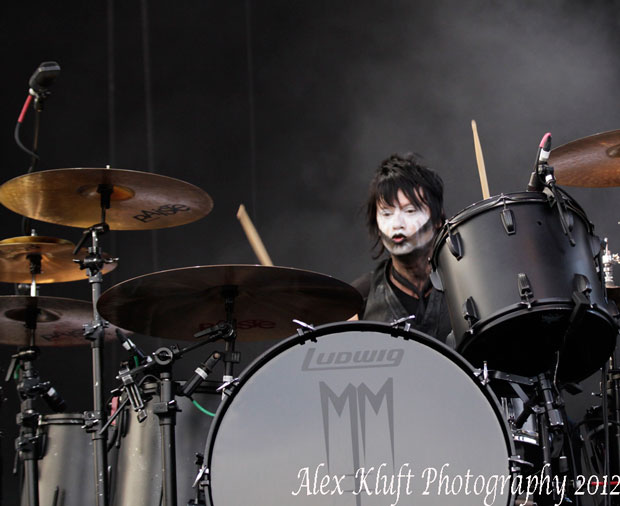 Hey gang! Jason Sutter here. I am heading out on tour again with Marilyn Manson and wanted to drop a line as to what I've been up to since I last caught up with Modern Drummer in a 2010 magazine feature.
The last time I spoke with MD, I had just finished recording Vertical Horizon's new record Burning the Days, on which I shared the drum duties with the one and only Neil Peart (yes, that Neil Peart) and did the US tour. Shortly after that, I hooked up with Foreigner and toured with them for all of 2010 in Europe and the US. I was fortunate to do a tour of India for almost a month with them, playing most of its major cities, which was life changing! One of the highlights of that year was the two-month summer US tour United in Rock with Foreigner, Styx, and Kansas. The twelve-year-old me would have been freaking out, as I got to tour with my favorite bands from when I was a kid. It was seriously old school and a tour I will never forget. I got to check out Todd Sucherman, who killed it every night, and watching Phil Ehart from Kansas was like a drum lesson every show. He blew me away, and I never missed a night, as his groove and feel are indescribable and thoroughly original. Foreigner was a riot and a great chance to play with one of classic rock's most classic bands. If you want to check it out, there is a recording available on iTunes called iTunes Festival: London 2010.
I finished that tour in March 2011, and I immediately got a call to see if I would be interested in touring with the New York Dolls starting in May with Mötley Crüe and Poison. I was floored, as the New York Dolls are one of my favorite bands ever and are the true originators of punk rock. I didn't have the gig yet but was asked if I was interested. As I never miss a show when they are in town and knew their current drummer Brian Delaney, I was a shoe-in. I had to remind them that I grew up in NY and not to hold the fact that I lived in LA against me. I got the gig and went on the rest of the tour. Advertisement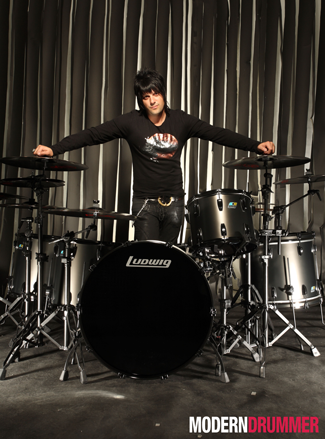 I can honestly say that that will probably always be one of the coolest gigs that I will ever do. The band was killer, and I was twenty years younger than the next guy, so it was like going to rock school every day. The band was David Johansson and Sylvain Sylvain from the original Dolls, the one and only Earl Slick (David Bowie, John Lennon) on guitar, and Kenny Aaronson (Derringer, Joan Jett, Billy Idol, Bob Dylan) on bass, so the band was killing. The summer tour was a riot. I got to see Mötley and Poison every night, so it was like one big party, from eating dinner with Nikki Six to hanging in the dressing rooms with Mick Mars or CC Deville or partying on Rikki Rocket's tour bus after the show. It was pretty insane. The best part was that I got to play every night with the New York Dolls. So rad!
We finished the summer and ended up going to England for a few weeks of shows with Alice Cooper, which ended in Scotland on Halloween. The Alice Cooper band was killing, and it's been great to hang with drummer Glen Sobel, whom I know from the LA scene, as well as the whole band. Of course Alice was the consummate performer every night and was a cool, down-to-earth guy offstage. Alice and the Dolls where the first to add that showmanship to rock shows back in the day, so this tour was especially historical.
Currently, I am out with Marilyn Manson for the summer, on the Masters of Madness US tour, co-headlining with Alice Cooper, so it will be cool to get to tour with them again. I toured all last year with Manson in support of his new record, Born Villain. The record was nominated for a Grammy and is currently up for best metal record at the Golden Gods Awards. This gig is a whole new world for me, and a chance to play more double bass, which has been a riot. The coolest part of last year was playing a ton of metal festivals all over the world and getting to check out the best of the best of today's modern metal drummers. Advertisement
I am having a blast and am looking forward to getting out there this summer. We are all over the US starting in June, so I hope to see you at a show. For tour dates and more info, check out my website. Keep rocking and I hope to see you out there this summer! Cheers!
For more on Jason Sutter, visit at www.jasonsutter.com.