Enter to win a <em>History of the Eagles</em> 3-DVD Set and an Autographed Poster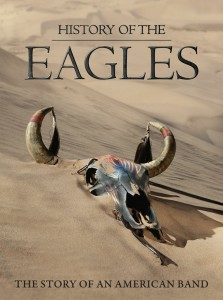 This three-disc set includes History of the Eagles Part One and History of the Eagles Part Two, as well as Eagles Live at the Capital Centre: March 1977, featuring never-before-released performances from the band's two-night stand at the Capital Centre in Washington, D.C., during the Hotel California tour.
History of the Eagles is available in both DVD and Blu-ray three-disc configurations—all with 5.1 surround sound and stereo audio—packaged in a six-panel digipak with an accompanying photographic booklet.
History of the Eagles Part One dedicates two hours to the chronicling of the band's creation and rise to fame in the 1970s through its breakup in 1980. More than twenty-five new and exclusive interviews were conducted with all current band members—Glenn Frey, Don Henley, Joe Walsh, and Timothy B. Schmit—as well as former members Bernie Leadon, Randy Meisner, and Don Felder. Also featured are new and exclusive interviews with Jackson Browne, Linda Ronstadt, Kenny Rogers, Irving Azoff, and many other seminal artists and band contemporaries who have been closely involved with the Eagles' history. Advertisement
While personal stories from band members, managers, and music industry luminaries frame the narrative, it's the unexpected moments—recording sessions, backstage interactions, and even a whimsical sequence from the Desperado cover shoot—that convey the extraordinary bond linking the artists, their music, and the times (an era when country-tinged rock and finely honed harmonies spoke to a nation still reeling from unrest).
Additionally, the documentary features previously unreleased home movies and archival footage. Personal photos, video, and memorabilia amassed by the Eagles over the course of their career will be seen for the very first time.
History of the Eagles Part Two reveals the personal and professional struggles members faced while the band was apart, and chronicles the group's dramatic reunion in 1994, as well as its resurgence in recording and performing throughout the next two decades. Among the band's many achievements since re-forming are its triumphant Hell Freezes Over tour, the 2007 release of Long Road Out of Eden, and its ongoing ascendance as an international supergroup. Advertisement
Eagles Live at the Capital Centre: March 1977 features previously unreleased concert performances of "Hotel California," "New Kid in Town," "Take It to the Limit," "One of These Nights," "Lyin' Eyes," "Rocky Mountain Way," "Best of My Love," and "Take It Easy," captured during the band's two-night stand in Washington, D.C., during its historic Hotel California world tour.
The poster is signed by all four members of the Eagles—one of a kind!
For more information, visit the band's website at www.eaglesband.com. To buy/pre-order History of the Eagles on DVD or Blu-ray click here.
Enter today!
THIS CONTEST IS CURRENTLY CLOSED. THANKS TO THOSE WHO ENTERED. CHECK BACK FOR MORE CONTESTS FROM MODERN DRUMMER MAGAZINE.