Brandon Richter of Motionless In White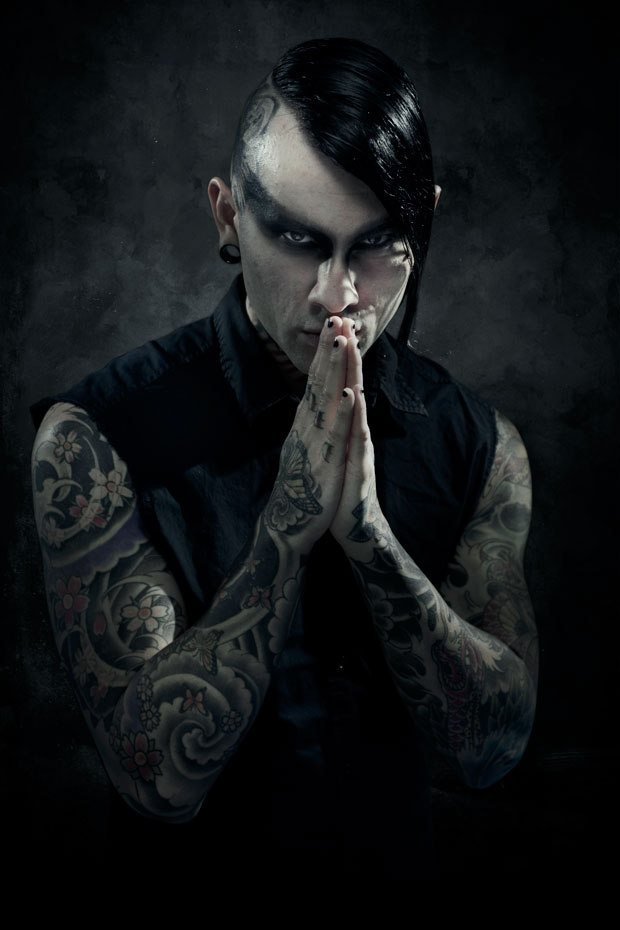 What's up MD? My name is Brandon Richter. I am a straight edge twenty-three-year-old from Orange County, California. I play for the band Motionless In White, which I am so happy to be a part of. As of now, we are getting ready to start the Don't Pray For Us tour, with awesome bands like Asking Alexandrea, White Chapel, and Chimira, and we're confirmed for a full summer on the Rockstar Energy Drink Mayhem Festival.
As far as the gear that helps me rage during these shows, I use SJC drums, Sabian cymbals, Tama Speed Cobra pedals, Ahead drumsticks, and DW hardware. I have played all sorts of gear, and I feel these brands work the best for me.
My dad always told me that when I was in my mom's stomach he would tap on her belly and say, "He's going to be a drummer." I still laugh to this to day when I hear about it, but I guess it came true. My dad has always been a great driving force and supporter in my drumming. He started me at a young age, around five. My first kit was some sort of Pearl, which I adored. I remember looking at the shiny finish thinking, Man, this is awesome! I would play in the garage for hours, to bands like Offspring and Blink 182 pumping out of my little boom box. I am a self-taught drummer and have never had any lessons. I feel there are people that either have the gift or they don't. You either can drum or you can't, and for me it always came naturally. I feel very blessed. Advertisement
I always knew I was different and was put on earth for a specific purpose, and that's to be a leader in the drum world. When I turned ten years of age, I would daydream about being the next big drummer and having my own custom drumset and touring as my career. That's all I have ever wanted, and that's what I worked for my whole life. While others were doing well in school, I was joining bands, playing shows in Hollywood, getting tattoos all over my body, and probably partying too much by the time I was sixteen.
Music was always the one thing that took me away from my problems, and being behind the kit was where I felt happiest. I battled an alcohol addiction that almost killed my music and me. My drive to succeed as a drummer was the only thing that saved me. Less than a year after I got sober was really when the doors started opening up for me. It was God's way of saying, "You cannot fulfill your destiny if you keep messing up your life with booze."
The drummer that changed my life when I was really young was Travis Barker. I saw so much of myself in him. His custom kits were so showy that I feel he changed drumming completely. Actually, when I was ten years old, my first band was a Blink 182 cover band. With that, I played my first real show at a venue called The Depot in San Juan Capistrano, CA. I was hooked!  Another big influence for me is Tony Royster Jr. He had a big impact on my drumming. Other than that, since I am a huge metal head, I really look up to Nick Barker of Dimmu-Borgir and Inferno of Behemoth. Advertisement
My advice for any drummer is to always do what you want to do, and do what you feel is the right thing for you. Find your talents, what you're good at, and what makes you feel happy, and do it. Don't listen to the people that tell you not to do something because they don't understand. I can't begin to tell you how many times I heard "don't get this tattoo" or "don't do that." I have always done what I wanted because I believed in it. Believe in what you do, and you will find success.
For more on Motionless In White, visit www.motionlessinwhite.net.