Brian St. Clair of Local H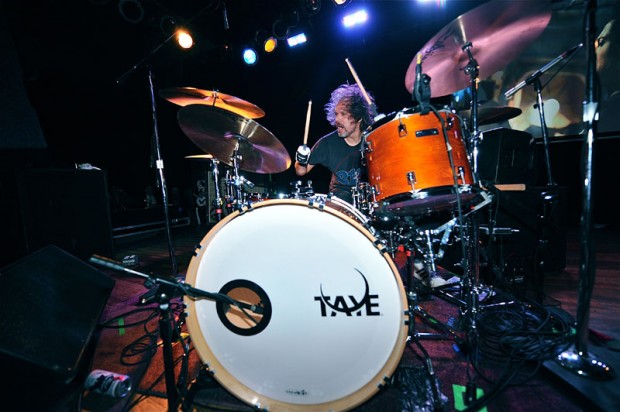 Hello, Modern Drummer readers! I am really excited to be writing my third blog for MD! A lot has happened with my band and myself since my last one in 2010.
In January 2012, I made a huge gear change and started playing Taye drums. My StudioMaple drum sizes are a 7×14 snare, a 12×14 rack tom, 16×16 and 16×18 floor toms, and a 16×24 kick. The drums are loud, warm, and speak like no other kit I have ever played. The number of live engineers across the country that have commented on my new drumkit have really reinforced my decision to start playing Taye drums. I still play Aquarian drumheads, as I have for years, but I am now using Force Ten clears on the toms and the Triple Threat coated on the snare. My Zildjian cymbal setup has remained the same—15″ New Beat hi-hats, 20″ A Medium ride, 21″ A Rock ride, and two 22″ A Medium rides. I have been touring and recording for over twenty-five years and without a doubt this is the best I have sounded.
In September 2012, Local H released its seventh album, Hallelujah I'm a Bum (SlimStyle Records), produced by Sanford Parker. We have been touring across the country on and off since March 2012, and will continue at least until May 2013. You can view our tour dates at localh.com/dates.html.
This past December, legendary producer Jack Douglas did an interview where he touched on eighteen of his career-defining records, which included Local H's Here Comes The Zoo.
In February 2013, Local H will release an EP with our second single and video from Hallelujah I'm a Bum, called "Another February." The five-track EP includes covers of Rush's "2112 Overture/Temples of Syrinx." We gave that track away for free as a gift for the holidays. You can download it here. Advertisement
I have also been working on a side project, called Discoveries of the American Scientific, with Joseph Wood (Metronomes, Deepspacepilots). Joe is leading this post-rock band, writing catchy hooks and pretty post-pop songs. I am really excited he asked me to be a part of it. We have been tracking songs at Strobe Studios in Chicago over the past six months or so with engineer Neil Strauch, who has worked with Iron and Wine, Andrew Bird, and Joan of Arc. Mark Greenburg of the Mayflower Workshop, who is currently in the studio with Wilco and Mavis Staples, will mix the project. We are not sure where Discoveries is going, but we hope to be performing live at some point. Maybe after the EP comes out this spring….
Thanks for reading!
For more on Brian St. Clair and Local H, visit him on Facebook and www.localh.com.