Spencer Walker of A Silent Film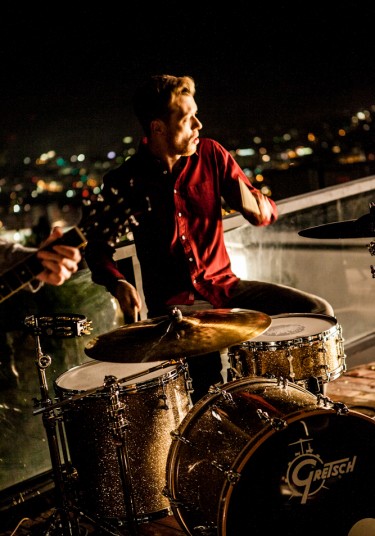 Although not conventionally recognized to be the case by other musicians—especially guitarists—the drummer is the focal point and center of attention in every band. I suspect this is why I was drawn to the drumkit at an early age. (Readers of this blog will know that the disproportionate amount of jokes about drummers is mostly indicative of insecurities on the part of other band mates. I am at least three times better at changing light bulbs than my bass player!)
I had lessons in piano and violin from an early age, but I came to the drums on my own. By the age of eleven, I had a growing awareness that while the piano seemed essential, the violin was not going to get me what I needed out of music. There was a drumkit in school, and I started teaching myself. My parents bought me a second-hand starter kit for Christmas—a Frankenstein's monster of rusted hardware, and skins that looked like they hadn't been changed since 1974. But I adored it.
My older brother Ben is a great keyboard player, and we learned our trades together. I have never been able to be totally content with playing drums on my own; I have never been a drummer who will sit and practice rudiments. I had to do that for years as a child with other instruments; the drums were my chance to play with other people. Around the time I got my first kit, Ben and I had discovered Queen and went way down the rabbit hole. We bought the Complete Anthology and set about learning every single Queen song. Roger Taylor unwittingly became my first and only teacher. So as not to be misunderstood, it's not that I don't see the point of practicing—far from it. I am a huge believer in practicing; I just prefer to do it while playing with others. For example, if you're going to insist on playing "Great King Rat" (from Queen's debut album) fifty-seven times in a row to make sure you've got it, you may as well find someone else to play it with you. It's way more fun and marginally less suspicious. Advertisement
Robert, our singer, is also a drummer. In fact, we were rival drummers at age thirteen (we joined forces at fourteen). We write a lot of drum parts together, and while there is no routine as to how we approach each song, instinctively a beat will tend to come from the left field and be pulled gently towards the center. The moment the beat starts to groove, we stop pulling.
Oxford is a town with an ambitious music scene, and growing up playing music there you couldn't help but be inspired and influenced by the generation of bands above you. For us, it was Ride, Radiohead, and Supergrass. When we first met Steve Lamacq at BBC Radio 1, his opening question to us was, "Why can't drummers from Oxford play normal beats"? It's a good question. For me, there is a weight of expectation in being a musician from this town, and it's something that gives me drive and ambition.
We have been touring and recording in the US for two years now, spending eight months of 2012 on the road promoting our latest album Sand & Snow. I live to play drums live—nothing compares. I love being in the studio, but I live for the stage. The comment I seem to get a lot in America after shows is that I am an incredibly "fast" drummer, which I think is a compliment? I also get a lot of comments on my "sparkly" drums. I have to thank everyone at Gretsch for helping me out with such a beautiful kit. Advertisement
We will be back out on tour in the US January through March 2013. Until then I'll try to find some time to practice those rudiments that everyone keeps talking about.
For more on A Silent Film, visit to www.asilentfilm.com and www.facebook.com/asilentfilm.