Jason Bonham <em>Celebration Day</em> Transcription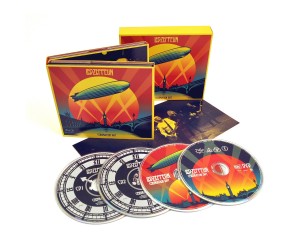 by Eric Fischer
Late in 2012, Led Zeppelin released Celebration Day, a CD/DVD that documents the band's 2007 reunion concert at the O2 arena in London. The opening number was "Good Times Bad Times"—a song that Zeppelin rarely performed live. Jason Bonham, filling in for his late father, John, captured the essence of the song, playing his dad's signature patterns while adding his own interpretation.
I decided to transcribe Jason's performance, as it's the only live recording of the entire song and it would show how Jason approached his father's grooves. (One difference is that Jason used a double pedal to play the tricky bass drum parts that John pulled off with one foot.) To enhance the transcription and to try to convey the feel of the tune, I created a MIDI sequence of Jason's drum part, based on a tempo map from the Celebration Day CD. There is no way to truly replicate a drummer's feel on a computer, especially a Bonham's, but it was a fun challenge.
Included here are two MP3s of the MIDI drum part, one you can use to follow along with the transcription and the other with a one-measure count-in so you can play along on the drumset. Watch out for the double-pedal action throughout the piece, and enjoy! Advertisement
CLICK IMAGE TO DOWNLOAD FULL PDF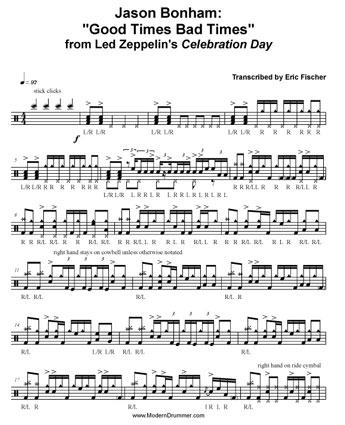 [audio:https://moderndrummer.com/wp-content/uploads/Jason_Bonham_GTBT_MIDI_With_Count_In.mp3|titles= Jason Bonham Celebration Day Transcription mp3 with MIDI count in] MIDI With Count-In Download
[audio:https://moderndrummer.com/wp-content/uploads/Jason_Bonham_GTBT_MIDI.mp3|titles=Jason Bonham Celebration Day Transcription mp3] MIDI Download
Eric Fischer is a Michigan drummer who caught the attention of the drumming world with his Buddy Rich solo videos, which feature MIDI overlays and transcriptions. For more details, check out the April 2010 issue of MD, and watch the clips here.
Fischer also produced the Carl Palmer Drum Solos DVD, which offers note-for-note transcriptions of three of Palmer's ELP and Asia solos and includes video footage and MIDI-soundtrack MP3s that can be played at 50 percent, 75 percent, and 100 percent speed. Advertisement
For more on Eric, visit ericfischer.info.