Bobby Potter of 1964 The Tribute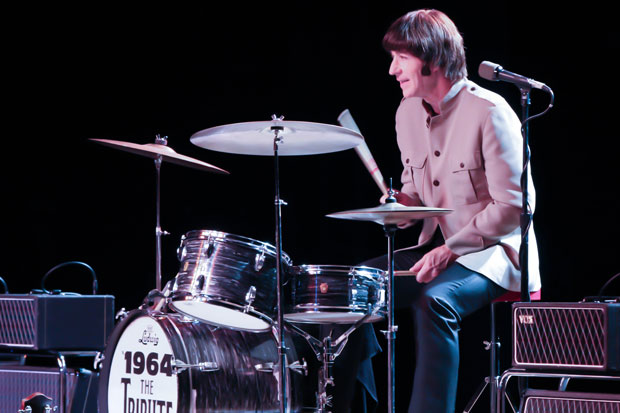 Hi MD! My name is Bobby Potter, and I am the drummer for 1964: The Tribute. This band has been together for twenty-nine years and has toured extensively. I am in my third year as a member. I performed with a few other Beatles tributes for a total of nine years, which paved the way for me. Our show has sold out Carnegie Hall, and we made our twelfth appearance there this past January 12.
I have been playing drums since fifth grade, and during my high school years I performed in three different bands. After that, I performed in a '50–'60s lounge show, a rock 'n' roll legends impersonator show, and later backed such artists as Billy Swan, Jewels Akin, Chris Montez, the Drifters, the Coasters, the Dell Vikings, and too many Elvis impersonators to mention!
I was chosen out of fifteen drummers nationally for 1964's drummer's chair. It is a great honor. This isn't just a wannabe group. We are dedicated to the respect and understanding of the Beatles music. If it doesn't sound right at rehearsal, we won't play it. A lot of hard work and study goes into every song. What separates us from the others is the fact that we perform the show as close to the way the Beatles performed live, with all their energy and camaraderie in a ninety-minute show. (The Beatles were only on for thirty-five minutes, but you can't do that these days.)
The show is one not to be missed! For the Carnegie Hall show, we had an eighteen-piece orchestra backing us on some of the songs. We have also played to crowds of over 7,000 at Red Rocks Amphitheatre, and we're returning again in August. Obviously, a few of the Beatles' songs were never played live, but the arrangements are beautiful and are crowd favorites.
All of the equipment is from the '60s, including Vox amps, a set of 1964 Ludwigs, and Zildjian cymbals. Thanks for reading, and come out and see a show!
For show dates and more on 1964: The Tribute, visit www.1964site.com