Jethro Tull <em>Thick As a Brick (Collector's Edition)</em>

CD/DVD
Don't say I didn't warn you: If you take your copy of the new Collector's Edition CD/Audio DVD of Jethro Tull's 1972 studio album Thick As a Brick to work and pop it into your computer, you're going to get in trouble.
The source of your potential talking-to is twofold. First, as long-time Tull fans know, the original vinyl album art was ambitiously presented as a full-size foldout newspaper, with the "liner notes" consisting of fake news stories, including some that relate to the record's labyrinthine storyline and lyrics. It's one of the greatest marriages of music and packaging of the classic-rock era, and this new version for the digital age updates the original concept by allowing you to view the entire St. Cleve Chronicle as a slideshow, while the music plays in your choice of audio format: a flat transfer of the original 1972 stereo mix as well as a new stereo mix, both at 96/24 PCM, and DTS 5.1 and Dolby AC3 5.1 surround sound versions.
The other reason you're going to get caught not doing what you're getting paid to do is because, regardless of the packaging, Thick As a Brick, which consists of one album-length song, is an epic composition in the best sense. Full of grand themes and variations, unexpected turns, charging riffs, playful starts and stops, hypnotic group interplay, and acrobatic solos, and served by a strong sense of forward motion, TAAB was a remarkably deep well of ideas for recently hired Tull drummer Barriemore Barlow to work with. Advertisement
Somehow Barlow's penchant for constructing drum parts that are much more difficult than they seemingly need to be always made sense with Tull. This is because Barrie's never playing the drums to the composition, he's playing the composition, and he's always playing the hell out of it. Across the entire album, Barrie supplies emphatic, unusual, razor-sharp, and completely entwined beats, fills, and rhythmic connections that continuously elevate the already stratospheric passages. Drop the needle anywhere (it seems only right to use that archaic analogy here), and Barlow always sounds animalistic—graceful yet powerful, like a puma, or a shark.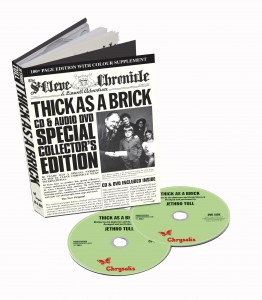 Here, let's try it. At 4:30 of side one, Barrie's catching some fast unison accents like a machine, then moves them from the snare to across the toms, and then announces the next section with a smooooth press roll. Nice. Now let's skip ahead to, say, 11:00. After another sweet press roll, Barrie is filling the spaces between lyrical lines with some warped snare-tom flourishes that will surely have the guy on the other side of your office wondering what you're cracking up at.
If you've still managed to remain undetected by your coworkers, how about we go to the beginning of side two. After a restatement of the theme at 4:30 on side one that we discussed above, at 1:32 Barrie launches into what can fairly be described as a drum solo passing through a two-and-a-half-minute avant-garde prog-pop song. With ridiculous power and accuracy, Barlow makes the most out of his multi-tom set with an extremely long mixed-stroke passage that carries us on an emotional ride through contrasting musical themes, from the very heavy to the very weird, finally bringing the entire segment to a clear and humorous end with three simple splash cymbal notes. It's hard to think of a similar piece among the entire Tull canon, or, for that matter, in any other band's. Advertisement
Of course, you can hear all of this musical magic on the previous CD edition of Thick As a Brick, not to mention your musty old vinyl, cassette, or even 8-track copies of the album. (Owners of the 1998 twenty-fifth-anniversary edition will want to hold onto it, as it contains extras that are not included here—a live abridged version of "TAAB," as well as an interview with Tull members Ian Anderson, Martin Barre, and Jeffrey Hammond-Hammond about the making of the album.) But audiophiles will surely dig the new high-resolution digital formats. Plus, in addition to a print version of the original newspaper credits, there's a thick full-color booklet that includes copious period photos, remembrances from band members, a TAAB tour calendar—even a set of German lyrics.
Thick As a Brick was reportedly devised by Tull leader Ian Anderson as a sort of "You want a concept album? I'll give you a concept album" response to the band's previous studio record, the somewhat thematic and critically acclaimed Aqualung. One can hardly imagine a more satisfying result of a musician reacting to a perceived dare. That it remains so elevated in progressive rock fans' hearts and minds forty years later is a testament to its quality. Adam Budofsky