Emil Amos of Grails, Om, and Holy Sons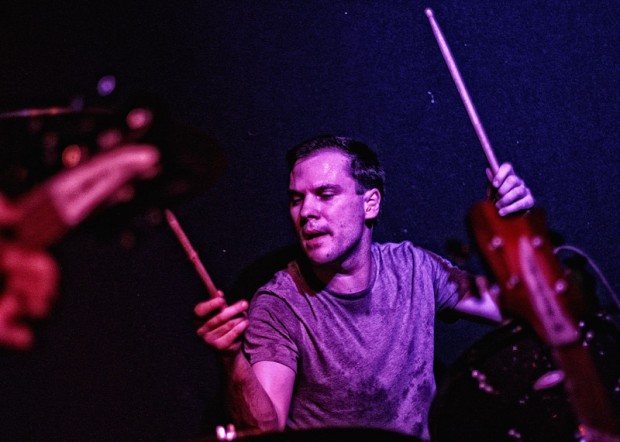 Growing up in the '80s, one was forced to pound the pavement and hit up older record heads for information on obscure and creative bands. You literally might have to locate someone who could remember who was drumming for Traffic in '73 because they actually saw them three times on that summer tour. That era was fueled by a much-missed sense of hard-earned knowledge and trust, while we now live in a paradigm of immediate knowledge and the ability to hear most anything at no risk (which is currently saving me massive amounts of money, so I am thankful for that). Now people will no longer only talk about Can and Kraftwerk when mentioning the pioneering German bands of the '70s because the Internet may just as often lead them to Agitation Free and Tomorrow's Gift on their first Google search.
In those pre-Internet days, I often obsessed over certain players for years, unaware that a much less famous artist was possibly even more up my alley. Sometimes I think of this dynamic as the "Soft Machine Complex," as that band is often hidden somewhere behind Pink Floyd's ultra-fame.
In high school, most of the members of our jazz band agreed that after Buddy Rich, Billy Cobham was the next most pyrotechnic and exciting drummer of all time. We even assembled a band to play "Red Baron" off his Spectrum LP in front of the school for a battle of the bands in 10th grade. But it was only about six years ago that I started buying up all the Mahavishnu Orchestra live DVDs I could find. I always picked up some sort of inspiration from their unselfconscious approach towards technicality, often amped up by Cobham's fearlessness and a seemingly ego-driven addiction to push the limits of each measure to new heights of speed and ambidextrous musicality.
Then one night after an Om practice, Al Cisneros and I put on the Live at Montreux DVD. Having never really seen Michael Walden play, we ended up sitting in reverent silence while watching what became one of our favorite drum performances of all time. Walden's tone seemed to come from an even more spiritually centered position than Cobham's, taking the subtle communication between Mahavishnu's instruments to a magically synchronized place. It was like hearing Cobham's fiery attack melded with Steve Gadd's beautifully internal sense of syncopation, and the flowers fixed on Walden's center cymbal stand somehow put his vibe over the top. To this day I haven't seen a group of musicians play more in tune with each other than that, and the loose joy and sonic presence of everyone around Walden just drives home how much of a pinnacle of musical achievement this was.
To purchase Grails' new split LP with Pharaoh Overlord, go here. To stream the track "Wake Up Drill II," go here.