PMC Is Giving Away Free Beginner Packs for Both Drumkit and Hand Percussion Drummers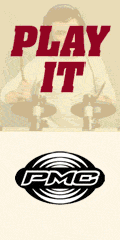 November is the month for the Percussion Marketing Council's (PMC) annual International Drum Month campaign, and the PMC has gathered basic drumming essentials from industry members to help you get started drumming!  Anyone who has ever dreamed of playing drums can get a free drum kit or hand percussion beginner pack, courtesy of the PMC.
The "Play It Like You Mean It" coupon is all you need to receive a drum kit or hand percussion beginner pack. Drumming essentials will consist of either a pair of drum sticks or splash cymbal, along with educational books and DVDs, or multiple hand-held shaker sets with supporting how-to-play materials. As a special bonus this year, each beginner pack will also include percussion company logo stickers! No strings attached, no purchase necessary.
Stop dreaming and start drumming. Just bring a "Play It Like You Mean It" coupon into your local music store, have it signed at the store, attach the store's business card, and check the beginner pack you want. Then mail the coupon and store's business card to the PMC. You can find the coupon in music magazines like Modern Drummer, Making Music, and Drum! or visit the PMC's website, www.playdrums.com. Advertisement
It's that easy—and while you're at the store, check out all of the latest and coolest stuff in the world of percussion.
Whether you're dancing to the rhythm or drumming on the dashboard in your car, the PMC will get you started. With all of the stuff being giving away, learning to play drums has never been easier. The PMC is committed to bringing the fun of drumming to everyone who's interested, and they hope you'll join the growing community of drummers with the 2012 International Drum Month "Play It Like You Mean It" campaign.
For more information on this promotion or the Percussion Marketing Council, visit www.playdrums.com.
Become a fan of the PMC on Facebook, and follow them on Twitter.