Gretsch Drums Brings Back the Round Badge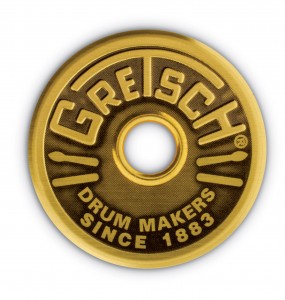 Gretsch Drums is proud to announce that beginning January, 2013, all USA Custom drums, including G-4000 metal and G-5000 wood snares, will feature the traditional round badge.
The newly designed round badge shares many of the characteristics of the original version, which first appeared in the 1930s and was used through the 1970s. Each badge is made from brass and features an embossed Gretsch logo, versus the fully embossed design of the original badge. A simulated patina is applied to give the new badge a vintage brass look. The new round badge will be attached in the traditional method, to the drum's vent holes using a pneumatically pressed brass grommet.
"Reintroducing the round badge to our USA-made product is a welcome return to the classic and very emblematic Gretsch drum design," says John Palmer, director of product for Gretsch drums. "As we approach the company's 130th anniversary, we are very proud to combine key elements of our rich heritage with our continuing advancements in drum making."
Several alternative Gretsch badge designs have been introduced since 1970, but the round badge has only been attached to commemorative products, such as the 120th and 125th Anniversary drumsets. A special silver-colored version is available on USA-made Gretsch Brooklyn series drums. Advertisement
For more information, visit www.gretschdrums.com.