Roxy Music <br><em>The Complete Studio Recordings</em>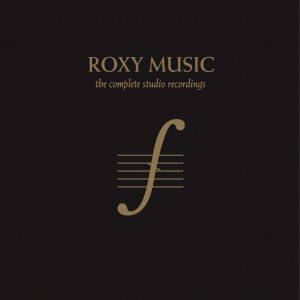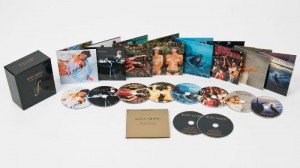 CD/ALBUM/BOX SET
Roxy Music covered so many bases with their music and their live approach that casual observers have often had difficulty grasping their "thing." And that's a real shame, because Roxy's thing was theirs alone, and it was quite remarkable.
From the very beginning in the early '70s, Roxy's two leaders, Brian Eno (keyboards, effects) and Bryan Ferry (vocals, keyboards), were influenced by a wide range of musical and non-musical sources, from avant-garde art to early rock 'n' roll to esoteric philosophies to high fashion. With guitarist Phil Manzanera, reed player Andy Mackay, drummer Paul Thompson, and a revolving cast of bassists, the powerfully creative, sometimes opposing forces crafted a sound that at once referenced Chuck Berry and doo-wop and outlined a futuristic vision that set much of the aesthetic of the coming new wave. Depeche Mode, Spandau Ballet, Orchestral Manoeuvres in the Dark, Duran Duran, Gary Numan, Ultravox, Heaven 17, Yaz—the entire "new romantic" wing of post punk would have been unimaginable without them.
Unlike many of the bands they influenced, however, Roxy Music knew damned well how to rock. While Ferry floated like a butterfly and Eno stung like a bee, Thompson's muscular thumping reminded listeners that despite all the makeup and hair product, these guys weren't pussyfooting around. Thompson was an absolutely vital part of Roxy's sound, as the leadoff track from the group's 1972 self-titled album, "Re-make/Re-model," clearly shows. Thompson comes galloping out of the gate charging in double time, somehow grounding the wild electric guitar, sax, and keyboard skronking. At 3:20, the band enters a section containing a series of breaks, with each instrument taking the lead, and this is where their MO becomes clear. Thompson is first, with a classic early-'70s descending quadruplet fill à la Carmine Appice and John Bonham; next, bassist Graham Simpson makes a cutesy "Day Tripper" reference; Eno then spews a sputtering synth line that's dripping in science fiction; and on from there. It's definitely tongue-in-cheek, but it's also blisteringly intense, and the rock 'n' roll hubris the group exhibits in its first five recorded minutes is the perfect intro to its entire catalog, which this new box set, released in the States today, neatly compiles. Advertisement
Thompson provided crucial heaviness but also nimble foot and hand work to the first six Roxy studio albums. Highlights include his quick bass drum doubles on "2 H.B." (Roxy Music) and "Grey Lagoons" ('73's For Your Pleasure), his precise hi-hat doubles and smooth but quirky way around the odd-time middle section of "Amazona" (Stranded, also '73), his thunderous tom fills on "All I Want Is You" ('74's Country Life), and his heavy dance/funk slam and cool timbale-like fills on Roxy's biggest U.S. hit, "Love Is the Drug" (Siren, '75).
After a four-year gap, Manifesto ('79) represented the beginnings of a change in direction for Roxy Music and was Thompson's swan song with the group. (Paul would go on to work with the American alt band Concrete Blonde, among others.) It says something that heavyweights like Simon Phillips, Allan Schwartzberg, Rick Marotta, and Andy Newmark were drafted to support the increasingly dancey, "mature" Roxy Music sound, which reached its commercial peak in 1982's Avalon, featuring the hits "More Than This" and the title track. Still, the band's drum stool will forever be associated with Paul Thompson, one of classic rock's most criminally under-considered players. This box set, which in addition to Roxy's eight studio albums, contains two discs worth of rarities (though no new liner information—who plays what on 1981's Flesh + Blood, for instance?), will hopefully help to elevate his status.
Adam Budofsky