News, News and Events
Hello Music Launches New Android App, Celebrates One-Year Anniversary
Hello Music, the marketplace and social commerce platform for musicians, celebrates it's one-year anniversary and launches the Hello Music app for Android.
Hello Music has more than 225,000 members and more than 100,000 Facebook fans. Through opportunities like exclusive giveaways and original content, the Hello Music Facebook page has become a driver of new members and sales, and making social media an integral part of the Hello Music secret to success.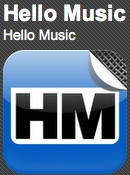 Hello Music for Android
Hello Music is the only music retailer on the market with native smartphone applications (iPhone and Android), providing members with the an easy-to-use experience for musicians anywhere on the mobile web. Whether on the road touring, locked in the studio for a recording session or stuck at the office, musicians across the U.S. can now access incredible opportunities from the palms of their hands – everything from gear to artist development services to vintage products to accessories.
Both Hello Music membership and the Android app are free; the latter is available immediately, exclusively on Google Play. The iPhone app is also free on iTunes.
About Hello Music
Hello Music is the marketplace and social commerce platform for musicians. Hello Music works every day on behalf of musicians to negotiate the best deals anywhere on instruments, home recording gear, studio time, marketing and distribution, publishing, touring, and other music-related products and services. To become a Hello Music member, please visit www.hellomusic.com.