Gretsch Brooklyn Series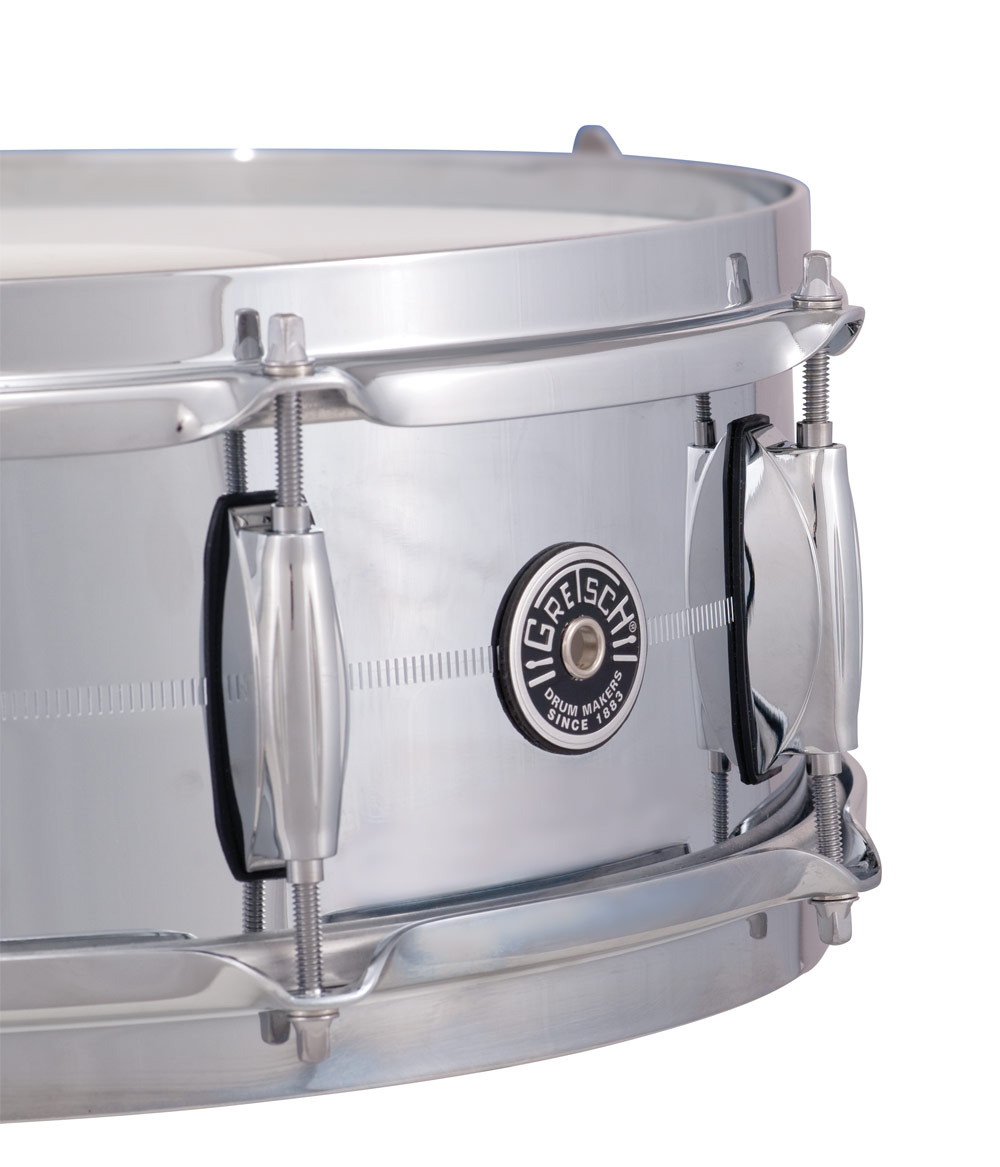 Gretsch
Brooklyn Series Drumset and Snares
by Michael Dawson
From 1883 until 1970, the Gretsch factory was based in Brooklyn, New York. These days, all Gretsch USA Custom drums are handcrafted in a facility in Ridgeland, South Carolina, but to commemorate its roots, the company recently launched the new high-end Brooklyn series, which is available in six different shell packs and in four satin finishes and four Nitron wraps.
We were sent the GB-R844 configuration, which comprises an 18×24 bass drum, 9×13 and 16×16 toms, and a matching 6 1/2×14 wood snare, in Tabasco satin finish ($3,495). Gretsch also threw in two of its new Brooklyn series metal snares: the GB-4160 8-lug, 5×14 chrome-over-brass ($460.99) and the GB-4164 10-lug, 6 1/2×14 chrome-over-brass ($510.99).
Brooklyn Specs
Like USA Custom drums, Brooklyn series shells are 6-ply (without reinforcement hoops) and have 30-degree bearing edges with Gretsch's classic Silver Sealer interior. The difference is that instead of being all maple, Brooklyn shells are a combination of maple and poplar. "We tested many wood combinations to engineer the Brooklyn sound we were looking for," Gretsch rep Joe Mazza explains. "We wanted a sound that had its own personality, but at the same time they still needed to have a 'Gretsch' sound. The 6-ply maple/poplar was the best combination to fit our goals. The shells are made to Gretsch specs, but they're slightly thicker than the 6-ply USA Custom shell." Advertisement
Also new to the Brooklyn line is the 3 mm, double-flange 302 hoop, which is a throwback to the hoops Gretsch used on all of its drums until the mid-'50s. (USA Custom snares and toms come with die-cast hoops.) The 302 hoop, plus the maple/poplar shell, helps bring a more lively, ambient characteristic to the Brooklyn series, while retaining the punchy, warm, and focused sound that Gretsch drums are known for. "The combination of the shell and 302 hoops give a more open tone that has a little more high-end presence," Mazza says.

The Brooklyn series is finished off with Gretsch USA hardware, including suspension mounts for rack toms and a new black and pewter round badge, which is also a tribute to the original Brooklyn-era drums.
Click here to check out the Brooklyn Series drumset with matching snare.
Click here to check out the 5×14 Brooklyn Series chrome-over-brass snare.
Click here to check out the 6.5×14 Brooklyn Series chrome-over-brass snare.
The complete review of the Brooklyn Series drumset and snares is in the July 2012 issue of Modern Drummer.
[PCUStat]