Brian Calhoun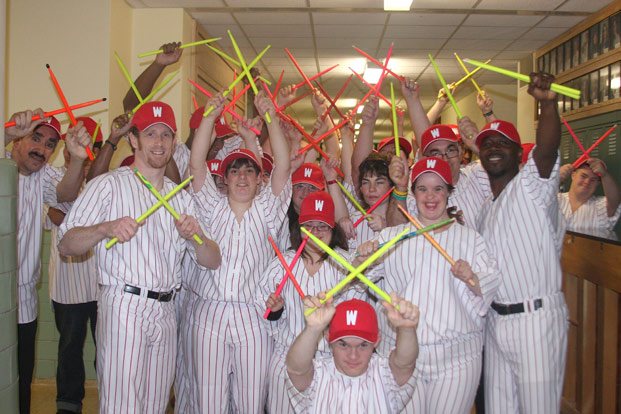 Greetings, Modern Drummer readers. My name is Brian Calhoun, and I am the creator and director of a very special drumline from Long Island, New York. All of the members of the FREE Players Drumline and are from the special-needs community. We have more than thirty members and have done a number of performances throughout New York in the past year. Currently we do a Broadway-type performance in the vein of Stomp, Blast, and the Blue Man Group shows. We're a one-of-kind-a performance group that showcases drumming and drum therapy in a whole new light.
It's truly is an honor to be writing a blog for Modern Drummer. I've been a fan of the magazine for my entire drumming career, not to mention I still religiously study all of the incredible performances from the Modern Drummer Festival DVDs.
My journey as a professional drummer has taken many twists and turns over the course of the past twenty-plus years. I never could have predicted that it would lead me to putting together a drumline with some of the most incredible, inspiring, and musically passionate individuals I have ever had the privilege to teach.
As early as three years old I'd expressed to my parents my rock star dreams. They were always very supportive and bought me my first drumset at ten. Throughout my formative years I performed with the school concert band, orchestra, jazz band, and marching band. At the age of twelve I joined my first band and would begin to put my rock star dreams into motion. I spent the next fifteen years of my drumming career recording and touring with various bands.
When my touring career started winding down, I began working in the special-education field. My younger brother, Chris, has autism, and because of him I've been volunteering with special-needs individuals for over twenty years. In 2009 I began working for Family Residences and Essential Enterprises, Inc. (FREE) at their theater program. It was there that I was inspired to put my two lifelong passions of playing the drums and working with special-needs students together.
In 2010 I started the FREE Players Drumline, which is based out of Old Bethpage, New York. I started with only five members and soon after brought on board my co-worker and good friend Servius Boucher to assist me. With the addition of Servius as a second instructor, we were able to build the drumline into a one-of-a-kind performance group. The drumline has been featured on FIOS TV and on YouTube, and it has performed at various events throughout New York, including the Long Island Drum Center's thirty-fifth-anniversary show. We're currently filming a documentary.
Click here to learn more about the FREE Players Drumline. And for more on the Theater Day Habilitation Program, click here.