ArtistWorks Drum Academy Launches Luis Conte School of Percussion on April 11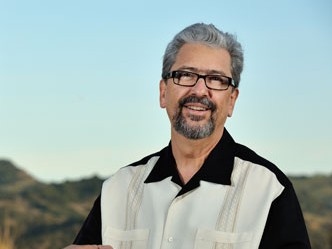 Napa California-based technology and music education company ArtistWorks is launching the interactive, online Luis Conte School of Percussion (LCSP) this April 11. The Grammy Award-winning percussionist has worked with some of the biggest names in contemporary music, including Madonna, Eric Clapton, Phil Collins, Santana, Jackson Browne, Celine Dion, Barbra Streisand, Ray Charles, Tony Bennett, James Taylor, Shakira, Ozzy Osborne, and Arturo Sandoval. A native of Santiago, Cuba, Conte is known for his impeccable feel, technique, musical knowledge, and tasteful musicality as well as his ability to blend Afro-Cuban percussion styles into contemporary pop and rock music.
As part of the ArtistWorks Drum Academy (ADA), the LCSP contains hundreds of high-quality video lessons that explore a wide variety of percussion styles and world rhythms including martillo, cha-cha, guaguanco, columbia, bembe, songo, salsa, merengue, samba, mozambique, as well as hip-hop, electronica, jazz, soul and reggae, plus playing techniques on a variety of percussion and hand percussion instruments, including congas, bongos, timbales, cajon, guiro, and hand percussion. In addition, Conte has recorded a number of video lessons in both English and Spanish and will respond to student video exchange questions in either English or Spanish depending on the individual student's language preference.
The LCSP utilizes ArtistWorks' patent-pending, breakout video technology to create a "private lesson" experience, allowing subscribing students to view Conte's extensive curriculum of beginner to advanced percussion lessons and submit video questions or performances directly to Conte for critique and guidance. Luis then reviews and responds personally to each student via a video response. These video exchanges are posted online so all subscribing students learn from the teacher and from each other, creating a virtual classroom with an ever-evolving curriculum. Advertisement
"I talk to young players all the time who have watched my educational DVDs, and they always have questions for me," says Conte. "Now they can just ask me those questions personally and I can help them on the spot."
The Luis Conte School of Percussion is open to percussionists and drummers at all levels of proficiency. Subscription fees are $90 for three months, $150 for six months, and $240 for a twelve-month subscription.
The ArtistWorks Drum Academy is also offers rock-drumming education via the Thomas Lang School of Drums and jazz/fusion drumming education via the Billy Cobham School of Drums. ADA Schools take full advantage of high-resolution video, leading-edge social media tools, and the Internet's interactive capabilities to create a robust learning environment Advertisement
Founded in 2009 by former AOL executive David Butler, ArtistWorks, Inc., is a Napa California–based technology and music education company that has created a proprietary, patent-pending, online "video exchange" visual education platform that allows virtuoso musicians to present their full method, technique, or curriculum in HD video to subscribing students. Utilizing simple web cams, students are able to submit videos through the site to the ArtistWorks' instructors for individualized critique and guidance, creating a two-way, individualized educational experience. ArtistWorks currently offers curriculums from such world-class, virtuoso artists as guitarist Andreas Oberg, harmonica artist Howard Levy, guitarist Martin Taylor, DJ Qbert, pianist Christie Peery, and drummers Thomas Lang and Billy Cobham, as well as the ArtistWorks Academy of Bluegrass.
For more information, go to artistworksdrumacademy.com.