Mark Pry of Mariner Project
Hi, guys, my name is Mark Pry, and I'm the drummer who, along with synth player Evan Ignatz, comprises the D.C.-based Mariner Project. Our style is a mixture of house, lounge, dance, and dub-step, but it's really a bit all over the place.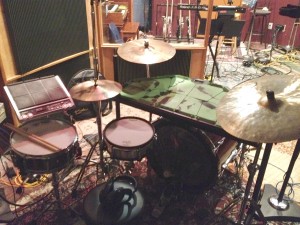 I would equate writing sessions with Evan to having a good conversation. You start out with a bit of chitchat and before you know it, you're engrossed in a subject that you never thought too much about before but—little did you know—you have an awful lot to say about. Evan either comes in with specific licks that he wants to flesh out, or he requests that I start off with a beat for inspiration. Then we just go. Evan also uses a loop pedal, so once he finds a phrase he likes and that fits in well with what I'm doing, he'll record it, play it back, and then move on to another layer. This allows me to shift underneath what he already has recorded and completely change the feel if I wish, which sometimes has some pretty outstanding results. Evan refers to these sessions as "mining for ore."
Inevitably we wind up somewhere, but usually neither of us is quite sure how we got there. It's a bit strange to think about, but I've had some very surreal out-of-body experiences during these sessions. I effectively shut down the part of my brain that concerns itself with what I'm playing, and instead focus on what I want to hear and how I want to utilize the energy in the room at that instant in time. This usually leads me to playing something that's just over the edge of my technical ability, so I'm able to continually expand my skills as well. Advertisement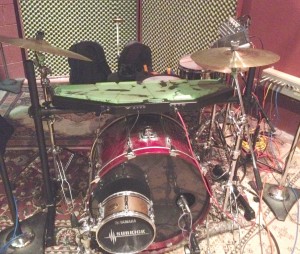 We then go back and listen to the pieces, polish them up, expand on some, cut back on others, and build a structure. As a drummer, I've never been in a project that has allowed me to have so much freedom and influence in the creative process, and it's been an awesome and liberating experience.
We had the pleasure of recording at Cue Studios in Northern Virginia. I listened to a lot of random music leading up to each session, including older albums from Genesis, Elton John, the Who, the Eurythmics, and Madonna, and then threw in some Sigur Rós, Tesla Boy, tUnE-yArDs, Portugal. The Man, and (especially) Martin Dosh. I also made a point to come home and spin an album or two before going to bed, and I made regular visits to local art museums—anything to keep my creative side stimulated.
As far as my setup, I use an acoustic kick (a Yamaha Maple Custom can be heard on our EP), snare, and cymbals coupled with a Roland SPD-S to the left of my hi-hat and a trapKAT saddled over the bass drum. I connect the trapKAT to the SPD-S via MIDI. I also use a Roland V-125 SX snare pad to trigger sounds from the SPD-S. The setup is pretty flexible and allows me to have virtually any sound I can think of on my right or left. Advertisement
Thanks for reading!
For more on Mark Pry and Mariner Project, go to soundcloud.com/marinerproject/sets.