Hole Drummer Patty Schemel the Subject of Rock-Doc Hit So Hard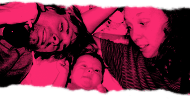 Hit So Hard: The Life and Near-Death Story of Drummer Patty Schemel follows the rise, fall, and recovery of the drummer for the band Hole. The movie uses filmed video interviews with Schemel, as well as her friends, family, and colleagues. Mixed with these interviews is never-before-seen footage shot with Patty's Hi8 camera while on tour and while living with Hole founder Courtney Love and her partner Kurt Cobain, just before the Nirvana singer/guitarist's suicide.
As a young girl who always knew she was "different" from the other kids in her small home town outside of Seattle, Schemel never dreamed that she would one day have her picture on the cover of Rolling Stone. Unfortunately, like Cobain, Schemel was drawn to the dark side of alcohol and drugs, and found herself thrown out of bands and forced to sell everything including her drumset to support her habit. Eventually, after hitting rock bottom, the drummer asked for help from her family and got her life and career together. Patty's story aims to be a wakeup call and an inspiration to anyone who has fallen into the grip of hopelessness and self-doubt.
Hit So Hard will open in New York on April 13 and in L.A. on April 20. For more info, go to pattydoc.com.