Taku Hirano
Greetings, MD readers, from the Cirque du Soleil Michael Jackson—The Immortal world tour! Right now, I am en route to begin the third leg of our North American tour.
We started "creation" of this truly amazing show back in August 2011, premiered two months later in Cirque du Soleil's home city of Montreal, and have so far played arenas covering the span of Canada, the Pacific Northwest, Arizona, Idaho, Colorado, and Northern and Southern California, as well as an extended three-week stay in Las Vegas. We have a typical pop/rock arena tour schedule, hitting every major city in North America for two or three nights until August, before heading overseas to Mexico, the U.K., Denmark, Norway, Sweden, Finland, Russia, Germany, and Spain, for the rest of 2012 and beyond.
So what exactly is the Immortal tour? Is it a live concert? Is it a Michael Jackson tribute show? Is it a circus? Yes, to all of the above. Cirque du Soleil, long known for putting together wonderfully imaginative artistic and visual performance spectacles, has teamed up with the Michael Jackson estate to produce the first and only sanctioned tribute show in production. Known for combing the globe for talent in their shows, Cirque really pulled out all of the stops this time. Our international cast of sixty-three performers, musicians, dancers, and acrobats, team of trainers, staff, and production come from the U.S., Canada, England, France, Germany, Switzerland, Italy, Turkey, the Netherlands, Spain, Portugal, Russia, the Republic of Georgia, Japan, Mongolia, Morocco, Guadeloupe, Australia, and a few other places I can't remember.
There's also a core group of individuals who all directly worked with Michael Jackson. Jamie King, a dancer for Michael on his Dangerous tour, is the creator and director of the show. He has also directed shows for Madonna, Britney Spears, and Rihanna, including Madonna's recent Super Bowl halftime show. Our team of multiple choreographers worked with MJ on his Dangerous, HIStory, and This Is It tours, giving the signature moves our dancers perform an air of authenticity. In terms of Jackson alumni in the band, we are led by Greg Phillinganes, the legendary keyboardist who was MJ's musical director for the Bad and Dangerous tours, and has played keyboards on every album to date (including posthumous releases). We have Don Boyette on bass (Bad and Dangerous tours), Jon Clarke on rhythm guitar (Bad tour), Fred White on background vocals (HIStory tour), and Jonathan "Sugarfoot" Moffett on drums (the Jacksons' Destiny, Triumph, and Victory tours; MJ's HIStory and This Is It tours). Advertisement
It is truly an honor to be included with all of these legendary performers and MJ alumni, and to be able to play in a rhythm section with Sugarfoot and Don Boyette is a dream come true. Truly a powerhouse groove, and to be playing those songs, with the isolated original vocals of Michael Jackson lifted off of the original master recordings, is a once-in-a-lifetime opportunity and experience.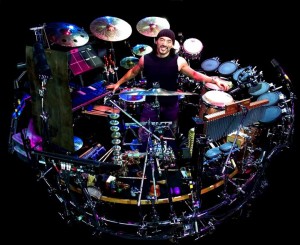 Our tour schedule usually has us on the road for eight to ten weeks for each tour leg, with a week off in between. As I check in, I have just finished a week off and am about to embark on an eleven-week run encompassing the Midwest, South, Florida, Carolinas, Northeast, and a return to Canada.
At this point, the machine is finally up and running, and we are in the business of cranking out shows. My hands can get pretty beat up, and I have to really fight to stay in shape—lots of yoga, stretching, and working out, including a pre-show regimen of working on a practice pad, warming up on congas, and light cardio and stretching in the backstage gym alongside the dancers and acrobats. Advertisement
For more on Taku, visit him on FaceBook.www.facebook.com/pages/Taku-Hirano/137428229609597?ref=ts&sk=wall