Steve Fagiano Drum Clinic
Master of Ceremonies – Jeffery Helgeson
Saturday, April 21, 2012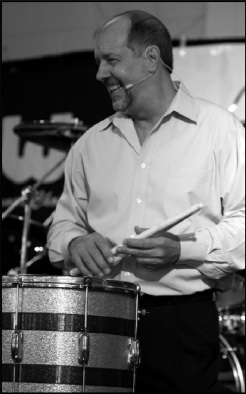 McHenry County College, 8900 Rt. 14, Crystal Lake, IL
Building B, conference room B
Clinicians:
Greg Rapp started playing drums at age 12, playing pop hits of the 80s on the radio. Upon graduating Hershey High School in 1991, Greg moved to California to study at Musicians Institute in Hollywood.
There he studied with LA players like Joe Porcaro and Ray Luzier. He returned home after school and started working and teaching at the Drum Pad in Palatine, IL, and working in the Chicago music scene. Greg moved his teaching practice to the Music Room in Palatine in 2006, where he continues to teach to this day. Greg works full time with his band Hello Nubo, plus maintaining an active subbing schedule.
Russ Mehle joins the clinic for the third time as a clinician at the MCC Drum Clinic. Russ is also a graduate of Musicians Institute of Hollywood, CA. and studied with Joe Porcaro, Steve Houghton, and Gary Hess. He currently teaches privately to students in their homes and specializes in the drum set and focuses on getting kids with LD, ADD, ADHD and Autism. He has had studies in rhythm theory and artificial note groupings, stick flips, and developing lesson plans for special kids. Russ has shared the stage with Government Mule and Dirty Dozen and has played with Colin Baily and Christopher Barron of the Spin Doctors. Advertisement
Steve Fagiano started drumming at St. Michael's Parish in Chicago, IL. He played snare drum with the three-time National Champion Chicago Royal-Airs Drum & Bugle Corps., as well as the Prestigious U.S.M.C. Commandants own Drum Corps in Washington, D.C. Steve has performed with member of Styx and Ted Nugent and studied with Steve Smith and Mitch Markovich, who was three-times undefeated national champion. For the last nine years Steve has taught at local stores in Crystal Lake, IL and at MCC since 2005. He also teaches privately in Huntley, IL four days per week. Steve is also founder of the 15th Annual Heat Strokes Drum Contest held at MCC in June.
The Classic Drum Line consists of 14 kids from McHenry County College, with ages ranging from 11 to 19. Both boys and girls from eight different towns. The drum line made its first appearance at MCC in 2007 at this clinic. They play classic drum solos from the best years of drum & bugle corps. The are the pride and joy of MCC and will continue to entertain for years to come.
This clinic is sponsored by: Zildjian, The Player's Bench, Piano Trends Music Company, Animusic, Humes & Berg, KMC, Alfred, Vic Firth, Yamaha, Evans, HQ Percussion, Tyler Press, Northwest Herald, Modern Drummer, Pro-Mark, Drum! Advertisement
Tickets: $10.
For information call: 847-404-7806 or visit: www.fagianodrums.com.