Line-Up for the 2012 Meinl Drum Festival Updated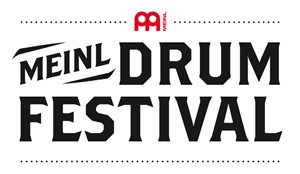 The 2012 Meinl Drum Festival will be a two-day event (Saturday June 23rd and Sunday June 24th) on Meinl's premises in Gutenstetten, Germany.
"After the huge success of our first two-day festival back in 2008 and the sensational festival in Mexico last year, I can't wait to bring the Meinl Drum Festival back to Germany again where it all started in 2005," says festival organizer Norbert Saemann. "My colleague Chris Brewer and I put a lot of thought into finding the right line-up and the company as a whole is very excited about it. I think it's safe to say that it will be another milestone in Meinl's Drum Festival history."
In addition to the performances, Meinl's full assortment of cymbals, percussion, and drum gear will be on display for everyone to see and hear. Guided tours through Meinl's cymbal factory will be offered on Sunday and Meinl gear will be given away to all attendees.
SATURDAY, JUNE 23 
Day 1 will host a series of exclusive Masterclasses to a limited amount of attendees (300 total).
MASTERCLASS INSTRUCTORS AND SUBJECTS:
Hannes Grossmann (Obscura)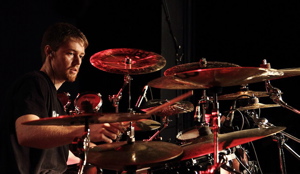 Progressive concepts for technical metal drumming
Drummer Hannes Grossman flings precision blastbeats and poly-grooves through shifting time signatures with the casual flexibility of a yoga master.
Hannes landed his first professional gig in 2003 at the age of 20, playing with the German technical death metal legend Necrophagist. From 2005 until early 2007 Hannes played almost 200 concerts with Necrophagist all over the world. Advertisement
In 2007 Hannes announced his departure from Necrophagist to join Obscura. In order to accomplish their own musical vision, Hannes and Steffen Kummerer (OBSCURA founding member-guitar, vocals) formed an entirely new line up of Obscura. By bringing in Christian Muenzner (Necrophagist, Defeated Sanity, Spawn of Possession) on guitar and fretless bass guitar master Jeroen Paul Thesseling, OBSCURA received a worldwide record deal with US label Relapse Records. In early 2009, they released their debut album Cosmogenesis which immediately cracked US newcomer Billboard charts.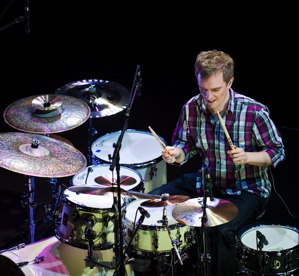 Jost Nickel (Jan Delay & Disko No.1)
How to use a click effectively when playing in a band and while practicing
Jost Nickel is a well known musician in Germany and his reputation is rapidly spreading worldwide. His name appears in the credits of many domestic hit records. In the nineties, Jost's career received a real boost when he joined the German fusion band Matalex. He recorded all but one of Matalex's albums (two of them featured Randy Brecker on trumpet). Jost began to expand beyond his native homeland when he toured with the great guitar player Barry Finnerty, whose studio lineage and tenure with Miles Davis helped draw substantial audiences.
Currently Jost plays for German soul singer Jan Delay, where he lays down a solid musical foundation with his amazing groove and feel. Known for his punchy, articulate drum sound, which he counterbalances with a jazzy, exotic cymbal wash, Jost reflects a cutting edge drummer who keeps one foot steeped in tradition. Advertisement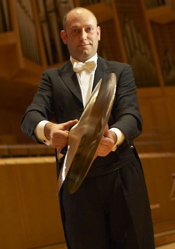 Jens Herz (Bamberger Symphoniker – Bayerische Staatsphilharmonie) (right)
Guido Marggrander (Symphonieorchester des Bayerischen Rundfunks) (below)
Symphonic Percussion Masterclass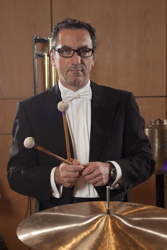 These two classical percussionists are playing in some of Europe's best and most famous symphony orchestras. Jens Herz also acts as Meinl's product consultant for their recently released symphonic cymbals.
For the first time ever in the history of the Meinl Drum Festival, a masterclass about symphonic percussion- and cymbals will be held this year and it promises to be one of the festival highlights.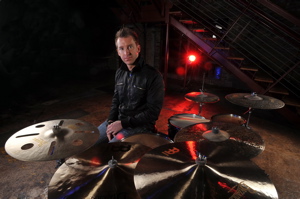 Mike Johnston (mikeslessons.com)
Travelling Through Time – Applying polyrhythms to practical drumming
Online educator and clinician Mike Johnston began studying the drums at the age of five. He spent the next 15 years studying privately with some of the greatest educator/drummers of our time including Pete Magadini and Steve Ferrone.
At the age of 21 Mike received his first major label record deal with his band Simon Says (Hollywood Records) and spent the next five years touring the world. In addition to his time with Simon Says, Mike also toured with Warner Bothers Recording artists Filter. Advertisement
Mike currently runs the educational website mikeslessons.com where he offers pre-recorded video drum lessons as well as "live" on-line drum lessons nationally and internationally. Every year he hosts multiple International drum camps at the mikeslessons.com facility.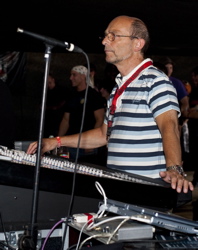 Georg Feltes (FOH and instructor for Event Technique)
Sound Engineering for the drumset 
Georg Feltes has been the FOH for the Meinl Drum Festival since many years.
He is also an instructor for Event Technique at the WES Academy in Aachen, Germany.
Benny Greb
Groove Design – the art and science of playing, feeling and developing a strong groove
Over the last couple of years Benny has achieved world-class status. He has performed on every major global drum event and has completed several workshop tours all over the world entertaining drummers with his clinics. His playing style is modern, slick and full of finesse and musicality.
Along with his popularity in the worldwide drum community, Benny can be found playing with a broad assortment of musicians. You can find him in rock settings with German singer Stoppok and The Ron Spielman Trio, in jazz with his own Benny Greb Brass Band and Turkey's Sabri Tulug Tirpan. He has also played classical music, working with the NDR Orchestra on their Zappa/Pops project, and for film composer and ex-police drummer Steward Copeland. Benny's ability to mix jazz and rock finds him also working with the fusion band 3ergezimmer. And of course, Benny is also an in-demand session player in Germany, where his studio duties also include the roles of composer and producer. Advertisement
Each masterclass will last for about 60 minutes.
SUNDAY, JUNE 24
Day 2 of the 2012 Meinl Drum Festival will feature performances.
DRUM PERFORMANCES: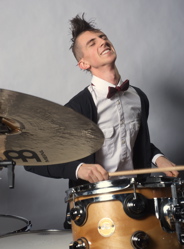 JP Bouvet, USA (Winner of the 2011 Guitar Center Drum Off Contest)
JP is the winner of the 2011 Guitar Center Drum Off contest, one of the most prestigious drum contests in the world. He has also won the Roland U.S. V-Drum contest and scored second place in the international finals.
A native of Lakeville, MN, JP juggles his studies as a student at the prestigious Berklee College of Music in Boston, MA with multiple drum duties that include recording and international touring with his band Helicopria and working as an online session drummer.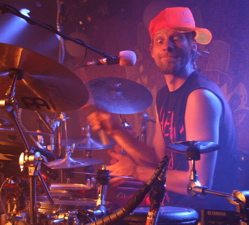 Giovanni Imparato (Italy, left), Onkel (Germany, right), Ohrbooten
An additional supporting program will feature several of Meinl's percussion endorsees such as the Italian master conguero Giovanni Imparato, Onkel of the German band Ohrbooten, and many others. Advertisement
Milos Meyer, Czech Republic (Dymytry, Kraken Exist, Drumming Syndrome)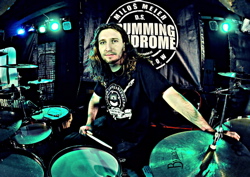 Milos Meier hails from the Czech Republic. The drum solos which he plays and uploads on youtube have created a buzz in the worldwide drum community. Milos has developed his very own unique drum style that is full of finesse and musicality. He is a raising star on the horizon of the worldwide drum scene.
Milos was born in 1984 in Hronov, Czech Republic and began playing drums at a very young age. When he was 13, he recorded his first two albums. Later he moved to Prague and studied jazz, fusion, pop, rock, marimba, xylophone and timpani at the Prague Music Academy. During that time Milos played in various bands and practiced drums extensively which began a great career playing with Czech musicians like Michal Pavlicek and Kamil Strihavka.
Currently Milos plays with Czech bands Dymytry, Kraken Exist and Noid.
Hannes Grossmann, Germany (Obscura)
Mike Johnston, USA (mikeslessons.com)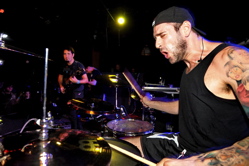 Matt Halpern, USA (Periphery)
Hailing from Washington DC, Matt Halpern and his band Periphery are one of the freshest progressive metal acts on the scene today. With their signature blend of polymetric grooves and soaring melodies, the band continues to push the envelope of modern metal music. The band released their first full length album, Periphery, in 2010. It debuted at #128 on the Billboard Top 200, as well as #2 on the Billboard Heatseekers chart. Advertisement
Since its inception, Matt and Periphery have been relentless in their effort to have their music heard. Allowing free access to almost their entire catalog, including over one hundred and thirty download-able songs, this self produced band is seeking to redefine the way music is experienced.
Periphery has toured extensively since 2008. The band's first European headline tour in early 2011
titled "The League of Extraordinary Djentlemen" was a huge success. They released their Icarus EP in April, 2011 and recently completed a European tour supporting prog-metal legend Dream Theater.
In addition to being one of the brightest faces in modern progressive metal today, Matt is the founder of bandhappy.com. Bandhappy provides a worldwide, comprehensive, user-friendly place for musicians to promote, schedule, pay for, and have LIVE online, video chat and on-tour music lessons. It's the only global, music education marketplace that connects musicians live through online video chat instruction and on tour music lessons! Advertisement
"DRIO" the drumtrio, featuring Benny Greb, Germany
Wolfgang Haffner, Germany (Till Broenner)
Jost Nickel, Germany (Jan Delay & Disko No.1)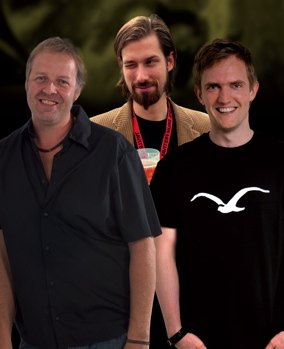 DRIO is a drumtrio consisting of the three German drum superstars Benny Greb, Wolfgang Haffner and Jost Nickel. Each one of them has previously played at the Meinl Drum Festival in an individual capacity and has created a huge buzz on the international drum scene. For the first time ever, these three Meinl artists will play together on one stage to debut DRIO at the 2012 Meinl Drum Festival.
DRIO will present a show which will feature Benny, Wolfgang, and Jost individually, as well as specially rehearsed drum compositions as a trio.
Everybody who knows and has seen Benny, Wolfgang, and Jost perform individually before will immediately understand that this will not only be a highly musical drum show, but also a very funny, humorous and entertaining headlining act for the 2012 Meinl Drum Festival.
Tickets will only be sold on meinldrumfestival.com starting on March 01st on a first-come-first-serve basis.