Feb Web Update News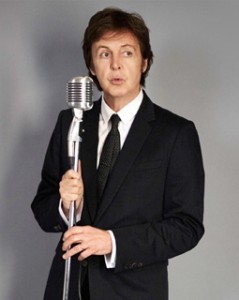 Vinnie Colaiuta, Jeff Hamilton, and Karriem Riggins are on Paul McCartney's latest, Kisses on the Bottom. Riggins performed with the former Beatle at the Grammys, as did McCartney regular Abe Laboriel. For more, visit www.paulmccartney.com.
Speaking of the Grammys, Low Millions drummer/producer Erik Eldenius was in the house band again for the 14th Annual Grammy Foundation show One Night Only: A Celebration of the Live Music Experience. The celebration took place this past February 9 at the Saban Theatre in Beverly Hills and was cohosted by Sharon Osbourne and Grammy-winning guitarist Steve Vai. The show featured performances by Robert Cray, Jonny Lang, Shelby Lynne, Mavis Staples, Dave Koz, Ledisi, A Fine Frenzy, Beverly McClellan of The Voice, Queen Extravaganza contest winner Marc Martel, Bret Michaels, and Tyrese, among others. For more on the 2012 Grammy Awards, visit www.grammy.com.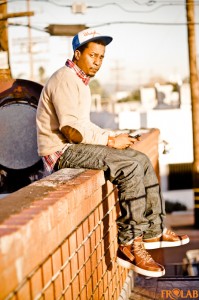 Drummer and producer Chris Dave has an ambitious year planned for 2012. He has joined the neo-soul singer D'Angelo's comeback European tour as drummer and music director, and other recent projects include work on Adele's Grammy-winning 21 and Maxwell's Grammy-winning Black Summers Night. Dave, who's also known for his collaboration with pianist Robert Glasper, is featured on Glasper's new album, Black Radio, out February 28. Dave is set to release a solo project as well this year. For more, visit http://chris-dave.com. And to watch a video clip, go to http://youtu.be/ViHmnR4OXUc.
Brazilian drummer Edu Cominato is on Damage Control by Jeff Scott Soto. For more, visit http://educominato.com/site.
Jeffery "Jellybean" Alexander is on Papa Grows Funk's upcoming March release, Needle in the Groove. The group of all-star musicians teamed up with Tom Drummond of Better Than Ezra and the legendary Allen Toussaint, who coproduced the new album. For more, visit www.papagrowsfunk.com.
Josh Freese and Frank Zummo are on American Idol runner-up James Durbin's debut, Memories of a Beautiful Disaster. To watch the video for the first single, "Love Me Bad" (written by Marti Frederiksen), click here: http://youtu.be/MLNxG7NTi8w
Singer-songwriter Ray Wylie Hubbard's latest CD, The Grifter's Hymnal, features Rick Richards on drums. The CD also includes a performance on guitar by Ringo Starr, who plays on and sings one of his own songs, "Coochy Coochy." Hubbard says he heard the ex-Beatle was a fan. "I told Ringo that I was going to cut this song of his," Hubbard explains, "and he said, 'Well, I'd love to hear that!' So we cut it and sent it to him, kind of with the purpose of, 'Well, there's a chance he might sing on it.' Later on my phone rings and it's Ringo, and he says, 'I'm thinking I might play a little guitar on it and sing a little. The drums on it are already so good, but I might play some shakers or something, maybe do some handclaps.' I said, 'Do whatever you want!' And he sent it back and there it was: He played guitar on it, sang on it, did some handclaps and one drum fill." For more, visit http://raywylie.com.
Frank Ferrer has been on the road with Axl Rose and Guns n' Roses. For more, visit www.gunsnroses.com.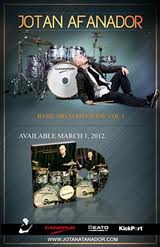 Jotan Afanador, drummer for the Latin band Aventura—who's currently on a solo tour by Romeo Santos from Aventura—will release an instructional DVD, Basic Drum Methods Vol. 1, on March 1. You can order it at www.jotanafanador.com. To watch a clip, click here: http://youtu.be/FQEWKIaK32I
Roger Cardillo is playing with Paul Gurvitz and his New Army band. Gurvitz is known for being a cofounder of the Baker/Gurvitz Army, with drum legend Ginger Baker. For more, visit www.paulgurvitz.com.
Anthony "Tiny" Biuso (TSOL, Hed PE) and guitarist Shane Gibson (Korn, Stork) have joined forces to create a hard rock/metal band called the Spider Accomplice. "My dream band!" Tiny says. "No categories—just hard, crushing music with beautiful vocals, guitar solos, and melody." Along with singer V.K. Lynne, bassist Eloy Palacias (Stork), and keyboardist Anne Seidler, the two are writing songs for a debut album to be released in 2012.
Mike Bennett is on the road with guitarist Richie Kotzen. For more on the drummer, visit www.musicevolutions.com. To watch a clip, click here: www.youtube.com/watch?v=zO-twmKA1GQ&fb
Jason Sutter is on tour with Marilyn Manson. For more, visit www.jasonsutter.com.
Sign up for the MD e-newsletter, The Wire, and read about all your favorite drummers and more at moderndrummer.com.