Gregg Potter with the Buddy Rich Big Band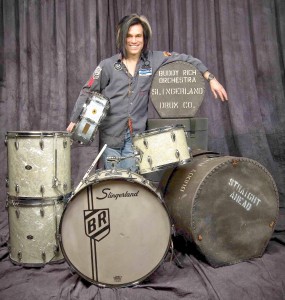 Hello, Modern Drummer readers, this is Gregg Potter. It's been a while since I've graced the pages or computer screens of MD. This is definitely a high point of any drummer's existence, being allowed to communicate with the coolest, most up-to-date drumming community on the planet!
As I had written in my First Person article "Hey, Rock Star" in the January 2004 issue of Modern Drummer, this business is a lifelong process, and you have to take in every great experience along the way. Writing an MD blog is one. I've stayed my drumming course throughout the years. More touring, recording—I even picked up an Emmy award in 2009 for my drumming performance on a CBS television special. What I am about to embark on now is not only living proof that following your dreams is the only path to take in life, but also that dreams do come true.
I'm going to be fronting the Buddy Rich Big Band, barnstorming venues across the world. Yes, that Buddy Rich—the best drummer that ever lived, the most influential man to ever pick up a pair of sticks and bang on things. Buddy could make anything sound rhythmic—drums and cymbals especially. I even saw him bang on a Muppet head once, and even that sounded incredible! Advertisement
I'm going to be playing with a sixteen-piece big band, playing Buddy charts, and bringing Nutville to the youth—just as Buddy did! (He played more high schools and colleges than Chuck Taylor.) Now, of course you'll ask, "How did I come up with such a concept"? I didn't do it alone. This is where Buddy Rich's daughter Cathy enters the blogosphere. One day we were sitting in our living room, looking at the 1991 Buddy Memorial Concert poster for the show at The Ritz in NYC (where I actually first met Cathy). She's done many Memorial Concerts in the twenty-five years since Buddy's passing. The drumming elite of the business were always well represented—Peart, Gadd, Smith, Weckl, Colaiuta, to name a few. But those were all one-night stands in L.A., NYC, and Boston—what about Lincoln, Nebraska or Dayton, Ohio?
Buddy always wanted the "kids" to hear his music. "Keep my music alive with the young people" is what he asked Cathy to do. Touring a big band was a tough enough concept for Buddy back in 1966. For us to take on the task in 2012, we had to think of a concept that would make it interesting to more than just the jazz enthusiasts studying music theory at the community college. Cathy has exhausted the "get the drumming greats to sit in with the band" concept; she has done that for twenty- five years now. The new approach is to have a fresher vision of Buddy's music—like Buddy did! Juice up the band.
No one has more respect for Buddy than we do in our household. Everything being done is just what Buddy would have wanted. Believe me, Cathy knew Buddy better than anyone blogging on a vintage drum website. We're not disrespecting the medium; it's in the name of art and Buddy. This is show business, and besides being the world's greatest drummer, Buddy was an entertainer. Advertisement
With no interest in creating a Buddy Rich clone or finding a leftover big band stalwart, Cathy and I are taking it to the streets ourselves. This will not be a Gus Van Sant shot-for-shot copy of Buddy Rich. No one will ever replace the magic that Buddy performed with a pair of sticks on a drum set. I'm certainly not claiming to be Buddy in any way, shape, or form, even if I'm playing with traditional grip—as opposed to my barbaric, plodding matched grip, which I've used throughout the years. (Check out this video on why Buddy didn't play matched grip.) http://www.youtube.com/watch?v=v0V4Aqs2D48
You guys and girls are definitely on the ground floor of this adventure. Our first show is headlining the Beaver Creek Jazz Weekend in Dayton, Ohio, this coming March 3. I'm nervous already, so let me get back to rehearsing.
Thank you, MD!
For more on Buddy Rich, visit his official website, www.buddyrich.com.