Doug Yowell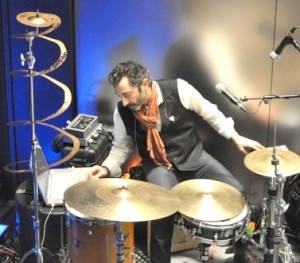 Hello, MD readers. I'm currently in a session, which is where I spend a lot of time these days. I'm not great at talking about myself, but I've had many experiences and I hope this gives a glimpse of what I do.
I grew up reading Modern Drummer and soaked in all the information I could get on my heroes, like Elvin Jones, Steve Gadd, Peter Erskine, and so many more. I still have a pile of MD magazines from as far back as the early '80s.
I studied my heart out and began lessons with Peter Erskine when I was sixteen years old. He was as much a friend as a mentor. Peter not only taught me behind the kit but also took me to countless recording sessions to watch a true master working with all the greats—Michael Brecker, Elaine Elias, Bob Mintzer, Vince Mendoza, Steps Ahead, Bass Desires, and on and on. In fact, Peter had me play a snare drum etude overdub with him on a Vince Mendoza record with the Bob Mintzer big band, featuring Will Lee and Chuck Loeb. Peter's selfless ability to illustrate emotion through motion has stayed with me ever since. Advertisement
In the very beginning of my career I was doing some work in L.A. with David Lasley and Luther Vandross, and then a few years later I did a short stint with Sophie B. Hawkins, which included an MTV video and a few dates in the U.S. and Europe. I started getting into sessions with musicians like Mike Visceglia and Marc Shulman (Suzanne Vega), who were both so helpful and honest. I wanted to learn all I could about the drummers in town and learn why everybody loved them. It was more than just what they played. It was their choice of sounds and textures. I soon became friends with Gerry Leonard (guitar player with David Bowie/Suzanne Vega/Duncan Sheik), who was working quite a lot with drummer Jay Bellerose at the time. We have since recorded many records together.
The experience and friendship have become profound and lasting. I got called in 2001 to record on a Suzanne Vega record, and at the same time started working with Duncan Sheik. I found myself recording and touring the world with Suzanne and Duncan for the past ten years, which has included Broadway musicals (Spring Awaking), live DVDs, and all kinds of TV and video. There have been many other artists through the years as well that I've recorded and/or performed, such as Joe Jackson, Cyndi Lauper, Sean Lennon, Larry Campbell, Jackson Brown, Phoebe Snow, Jonatha Brooke, Chris Botti, Donna Lewis, Jimmy Herring, and many others that you can see in my discography, as well as international artists like Eros Ramazzotti, Laura Pausini, and most recently the Czech group Cechomor with Tony Levin on bass and Gerry Leonard on guitar.
I'm currently recording songs for Robbie Dupree's new EP with Clifford Carter and David Spinoza. I also played with Chuck Loeb's group, as well as with his wife, Carmen Cuesta Loeb. It was not only a thrill but also one of the greatest playing experiences I've ever had. Over the last few years I've continued to record and tour the U.S., Canada, and Europe with Ari Hest, and I recently completed a record and seven-week tour of Ireland with Declan O'Rourke. I also do quite a bit of commercial jingles. There's so much more to share, but I guess I'll save some for another time. Advertisement
The most loving people who, all in their own way, helped encourage me and support me in becoming a better player have always surrounded me. I really take none of the credit. My endorsements include Yamaha, Zildjian, Vic Firth, Ableton Live, M-Audio, Evans Heads, Fat Conga, and Beato Bags.
Also, I would like to thank my brother Drew (he's a successful singer/songwriter) and my dad for allowing me to have drums in the house. I began playing at age three and started formal lessons at seven. My dad played saxophone with the greats like Charlie Parker, Zoot Simms, Gerry Mulligan, Woody Herman, Buddy Rich, and so many others. His influence in jazz was tremendous, not to mention him supporting me in every way possible. Thank you for reading.
For more on Doug Yowell, go to www.dougyowell.com.