Bill Block, Creator of the Short Film The Drummer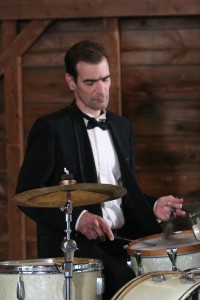 I wrote and directed a short film called The Drummer. It's about a cathartic day in the life of a down-on-his-luck drummer named Dave. Dave doesn't say much in the film (he's got maybe three lines), but he doesn't need to because in the end his drumming speaks volumes.
Now, making a short film like this is not necessarily a smart business decision. It takes up a massive amount of time, costs a lot more than you think it's going to, and won't make you any money. But that's not the point. This was a story I was desperate to tell. I would say it's very much like being a musician: You just don't have a choice in the matter. It's called passion, right? For me the word obsession might be more appropriate. It pushed me hard, pissed me off, and challenged me at every turn, but I was determined to tell this story and tell it right.
One of my best decisions was casting an actual drummer in the lead role. Some of you may know Dave Ratajczak from his many accomplishments as one of the workingest drummers in New York City. I know him because 1) we were in a band together for eight years and 2) he up and married my sister! Advertisement
So, yes, when it came to the character of Dave, I knew just where to find him. What I didn't know was how good an actor Dave Ratajczak would turn out to be. He gives a truly beautiful performance.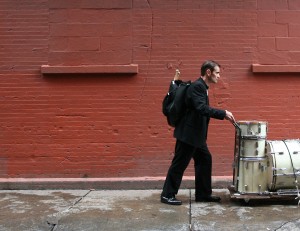 I should mention here that Dave didn't want to play the role. He is a pure musician and not comfortable with the idea of acting. As he said, "I don't want to stink up your film." Luckily for me, my sister (his wife) made him do it. (Thank you, Amie.)
Another key decision had to do with the music. I ended up writing it with my music producer, George Petit, another gifted musician I've had the pleasure to work and play music with. This was a decision I was forced to make because I couldn't afford the rights to the existing music I wanted.  What was particularly challenging about this was that the music had to sound as if it was from a different era. In the end, writing the music deepened the whole experience for me and made The Drummer a much more personal film.
I was once told, "The more personal you make it, the more universal it becomes," and with The Drummer that has proven to be true. I'm proud to say the film went on to win highest honors at a number of film festivals across the country and, since its online posting on Vimeo, has been viewed over 50,000 times. Advertisement
Most rewarding have been the many comments and emails I've received from musicians from all over the world who have seen the film and connected with it. You drummers are a passionate bunch—and you speak your mind. I thank you for that. And I thank you for taking the time to watch the film and then feeling moved enough to contact me. You guys have blown me away with your openness, honesty, and insight.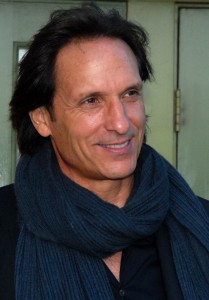 It's no secret that drummers are underappreciated. You're the Rodney Dangerfield of musicians: You get no respect. But we all know that's a bunch of crap, because the drummer is the engine. You guys drive the bus, and the music ain't going nowhere without you.  So…if I ever get to turn The Drummer into a feature film (and believe me, I'm working on it), I hope to do you all proud.
Thanks for your passion (or obsession), your sense of humor (because, with the exception of my film's character Dave, I've never met a drummer who wasn't as funny as hell), your willingness to schlep more equipment to a gig than anyone else (this peculiar phenomenon is highlighted in the film), your incredible ability to drive the bus, and for inspiring me to tell a good story that attempts to decipher what you do and why you do it. Advertisement
"Give the drummer some!"
Cheers, Bill
Watch The Drummer at Vimeo. http://vimeo.com/15273009 or on Modern Drummer here.
Bill Block is a filmmaker currently living and working in Los Angeles. He recently returned from Bangkok, Thailand, where he directed second unit on the thriller A Stranger in Paradise starring Stuart Townsend, Catalina Moreno, and Colin Egglesfield. Next he will direct the psychological drama The Wind Effect.