Back Through The Stack <br>Teddy Campbell
This article originally ran in the September 2005 issue of Modern Drummer magazine. For access to all of the great editorial from MD's first twenty-six years of publication, check out our Digital Archive.
by Billy Amendola
Out of all the reality TV shows on the air, American Idol has risen above and beyond to become a cultural phenomenon. In the few years the show has been on TV, it's practically taken over the entire music business, with the promise of making superstars of the winning contestants. The live house band, directed by leader Rickey Minor and featuring drummer extraordinaire Teddy Campbell, plays a pivotal role in making the show one of the most entertaining and watched programs in TV history.
Campbell grew up in the gospel music scene of Chicago, played in church for the first time at the age of four, and hasn't looked back since. Since moving out to California almost nine years ago, Campbell, now thirty, has become one of the hardest-working drummers in the business. His résumé is so impressive that even he sometimes has a hard time believing how truly blessed he's been. Advertisement
Campbell's work as musical director and drummer for 98 Degrees and Britney Spears (while both were at the peak of their careers) is just the tip of the iceberg. His other credits include Deborah Cox, Kelly Price, Mary Mary, and Ann Nesby (formally of Sounds of Blackness). Teddy has also recorded with Al Jarreau, Rod Stewart, Sisqo, Kirk Whalum, Paul Jackson Jr., and Kelly Clarkson. And he's toured with the Backstreet Boys, Christina Aguilera, Maze featuring Frankie Beverly, LSG (Gerald Levert, Keith Sweat, Johnny Gill), and Bette Midler. And the drummer has done TV appearances with Ashanti, P-Diddy, Yolanda Adams, Shania Twain, Stevie Wonder, Mariah Carey, and Natalie Cole. And he's been the drummer in the house bands for The Image Awards, The Essence Awards, The American Music Awards, The Billboard Awards, B.E.T.'s Celebration of Gospel, the VH1 Disco Ball, the VH1 Divas Concert, and the VH1 Save the Music Concert.
Despite all of that work, Campbell still finds the time to stay true to his roots, fronting his own gospel group, the Soul Seekers. "I'm the lead singer in the group, and Eric Seats is the drummer," Teddy explains. "I played drums on two of the studio tracks, 'What Would You Do' and 'He'll Make a Way.' We did most of the record live at drummer/producer Nisan Stewart's dad's church. Nisan's in the group as well—though he doesn't play, he sings."
MD caught up with Campbell just as this season of American Idol was wrapping up. This is his first major feature story, and it's well-deserved. Look out for this rising star. Next time you're watching TV and there's a house band, there's a good chance you'll see Teddy doing his thing. Advertisement
MD: Let's start with American Idol. How did the gig come about?
Teddy: I've been working with musical director Rickey Minor for a few years now on various TV shows. Rickey recommended me for the gig.
MD: What does the gig require? Are you reading charts?
Teddy: Oh, yeah. It's all charts.
MD: Is Rickey flexible? How close do you have to stay to the original recording?
Teddy: Rickey's very flexible with me. But he can be hard on anybody who sits in that seat—anybody. He doesn't care who it is. [laughs] We work well together and have been doing these types of shows for a while now. It's a very hard thing to do. You can't just come in, sit in the seat, and blaze. Rickey counts us down, and it's 4, 3, 2, 1…go. And we're live, so on top of reading the charts and listening to the cues, everything has to be on time and precise. Tempos have to be exact, and the songs can't run over a given time limit. If a song is supposed to be two minutes and twenty-five seconds, then it has to be two minutes and twenty-five seconds.
MD: Are you familiar with the tunes? Some of them date from before you were born.
Teddy: Oh yeah, a lot of them. [laughs] I was born in '75. But you know what? I grew up in church, playing strictly gospel music. I think that's the best school ever, because not only does your pocket get strong in that setting, your awareness of what's going on around you improves, because you have to pay attention to so many things in church. You've got to watch the director. You've got to listen to the music, support the band and singers, and watch the preacher. It's not just showing up and playing. You have to be very attentive. And spiritually too, you've got to be in tune with what's happening. If the spirit is trying to move to a worship mode or to more praise and aggressive music, you've got to be able to switch over. Advertisement
MD: So you're incorporating your church experience when you're playing the show? You make it sound like five different drummers playing, because you're covering so many different genres.
Teddy: Well, thank you. Growing up, I only played gospel music. But I was a fan of music, period. I always listened to a lot of music. From the time I was fourteen years old, I started getting into other types of music, and that's when I first heard players like Vinnie Colaiuta, Dave Weckl, Will Kennedy, and Steve Gadd. Up until then, I only knew church music. Of course, I knew there was a whole other world of music out there, but I never needed it. When I got old enough to understand and be interested in other music, that's when I started finding out about different cats. From then on, I always listened to a lot of different music.
I listened to jazz and R&B. I was a '70s guru—I wanted to play everything from the '70s. I wish I had been around for that era. Oh, man. The Marvin Gaye stuff was so funky, the Parliament stuff, Earth, Wind & Fire, all the Motown stuff—which was a little earlier than the '70s. But all that stuff was so funky.
MD: Did you start playing along to those records?
Teddy: Oh, yeah. And when I couldn't play—because we were moving around to different places, going from a house to an apartment—I would just listen. I always had music in my head. And when I was living in a house, as soon as I got home from school, I didn't even do my homework. [laughs] I just got on the drums and played until my mom came home from work. I had about three hours a day to practice, blazing away to Dave Weckl, Vinnie Colaiuta, and Will Kennedy with the Yellowjackets. Advertisement
MD: Did you also watch videos?
Teddy: No, I didn't watch a lot of videos. It was more just playing along with CDs, listening to the music, and getting on the drums and trying to do that stuff myself. I never got into videos.
MD: Are you self-taught?
Teddy: Yes, completely. I played my first song in church when I was four years old. That's what God put me here to do, among other things. But I'm a drummer.
MD: Who taught you how to read charts?
Teddy: Well, that came from on-the-job training.
MD: In church?
Teddy: No, we never had charts in church. After living in L.A. for three years, I met Rickey Minor through Wayne Linsey while I was doing the Frankie Beverly & Maze gig. Rickey was the musical director for Whitney Houston, and he was also doing Motown Live. So Wayne introduced me to him. I don't know if Rickey had heard a tape or had seen a show, but he knew I could play, so he hired me. When I got to rehearsal, it was all charts. And I didn't tell him at the time that I couldn't read. I didn't say anything. But my ears were good from all of the experience I had playing in church. I can hear a song once and play it.
When I first started playing with Rickey, I didn't think he realized I wasn't reading. But after a while he knew and he came to me and said, "Man, I know you can't read. But I like the way you feel and I like what you do. So when the charts show up, follow them as much as you can. Use your ears and do what you do." So that's what I did. And after a while I started seeing the charts so much—all of the symbols and signs—that everything became familiar. Of course, it's been a few years, so if you put a chart in front of me now, I'm straight. [laughs] Advertisement
MD: Rickey gave you a break. Did you find work as soon as you came out to California?
Teddy: I went on the road immediately with LSG [Gerald Levert, Keith Sweat, Johnny Gill]. And then I started with a band called Dakota Moon, who I went out of the country with a lot. And then I did Maze featuring Frankie Beverly, and Christina Aguilera was around that same time. I met Rickey right after that.
MD: And then you became musical director?
Teddy: Rickey put me on as musical director for 98 Degrees. And then I did the Backstreet Boys. I wasn't an MD for the Backstreet Boys, but after I started doing that kind of work, I started putting bands together for Deborah Cox, Kelly Price, and Mary Mary. By the way, one half of Mary Mary is my wife, Tina. Then we did Britney Spears, and Rickey made me MD for her.
MD: Was Rickey playing bass on these gigs?
Teddy: No, he wasn't out at all. He was contracting. He was like, "Put this band together and MD it."
MD: Another great break.
Teddy: Oh, yeah.
MD: Obviously he believed in you, and you proved to him that you can do the job.
Teddy: Yeah, but I was nervous, because I heard a lot about Rickey's reputation. He's a no-nonsense kind of dude. And that's why he's on every single show in the world on television. He gets the job done. We have fun, and he hires great musicians to play with him to make his job easier, but at the same time it's a job. We work. When it's time to be there, we're there. We have a schedule and we keep it. It's a very professional situation. You have to be ready for the challenge. I've sent a few drummers in to sub for me, and they're all great players, but some couldn't handle the pressure. Advertisement
MD: It's not as easy as it looks.
Teddy: I'm telling you—the tempos of the songs are critical, and the songs are coming so fast. We'll jump from an R&B, hip-hop kind of blazing mode right into a country, rock, or pop tune. We'll go from something very heavy to a lighter ballad. You have to be fluent in the different styles of music so you can immediately switch.
MD: And it's a mindset also.
Teddy: Yes, it is. I mean, I have what I think are my strong points. But at the same time you've got to play all the other stuff like you've been playing it forever, because that's what's required. And that's the hard part.
MD: Did you listen to rock music growing up?
Teddy: No, not growing up. Why?
MD: Because I like the feel that you incorporate into some of the rock stuff.
Teddy: Thank you. Whatever you play, you've got to make it feel good. I'm only going to be who I am. I'm a funky, groovy kind of drummer. That's really what I do. But knowing that, making the switch over to rock, you just can't help but incorporate your feel and your style. That's just how I interpret other music; it's got to have a groove. It's got to have some kind of backbeat to it. Advertisement
MD: Getting back to American Idol, what is a typical day on the set like?
Teddy: I'm there Mondays, Tuesdays, and Wednesdays. On Mondays I arrive at 8:30 a.m. to rehearse with the band until about noon. Then the singers come after lunch and we'll rehearse a couple of times with each.
MD: Do you ever go back and refer to the original recording of the song?
Teddy: Oh, yeah, definitely. I want to be as close to the style and feel of the original as I can possibly be. I can read the chart, but before I started reading I was all ears, so that's how I want to learn the song. I want to listen to it and learn it that way. I want to get the feel of it. Then the chart is just a reference point.
We finish up on Monday at about 5 p.m. On Tuesdays, we come in around 10:30 a.m. and we do a camera block with the contestants.
MD: Can you explain what that is?
Teddy: A camera block is when we do the song on camera so that the camera angles can be adjusted.
MD: So they actually tape it?
Teddy: Yes. They tape it so the director can see where he wants the singers to stand and how they'll look on camera with the lighting—that sort of thing. We do that, take a break for lunch, and then come back to do a run-through of the entire show with a small audience, just like we're going to do it live that night. Advertisement
MD: Like a dress rehearsal?
Teddy: Exactly. And then on Wednesdays, we come in at about 2:00 in the afternoon and learn the group song. Then we break and go live that night.
MD: How's the vibe behind the scenes?
Teddy: It's good. We have fun. Simon Fuller, who owns the show, talked to Rickey yesterday and said, "Just tell me now that you're coming back next season." So it looks like we'll be back again next year. And I'm cool with the producers—we have a really good relationship. I really think they like what we do.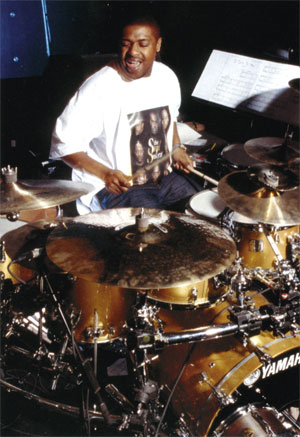 MD: While you're not on camera a lot, it sounds as if you're hitting the drums hard.
Teddy: Oh yeah, I'm banging the crap out of them. [laughs] I'm smacking them. I'm not letting up at all.
MD: Do you tailor your sound for a TV mix? Do you use certain gear to accommodate that setting?
Teddy: I do switch things out, but not my drums. For instance, yesterday I didn't use my side 12″ snare. I had a Roland V-Drum pad triggering an 808 snare sound on my SPD-20. So I'll do that kind of thing. On the day we did the show tunes, I switched out a couple of cymbals. I added two ride cymbals to better match the music.
MD: Is that specifically for the TV sound, the song, or both?
Teddy: Both. The particular style of the song will require me to use different things—electronics, a ride cymbal, a cymbal with rivets…whatever. I change it up. But I definitely leave the drums alone; I don't change the drums. Advertisement
MD: Let's go back to the beginning. Did anybody in your family play drums?
Teddy: My father was a percussionist.
MD: Do you have memories of him playing?
Teddy: No, because I just grew up with my mom.
MD: When you started to get serious about playing, who was the first person that made you say, "Man, that cat's good"?
Teddy: That would be Oscar Seaton, who plays with Lionel Richie now. I first saw Oscar play in church. He's from Chicago too. He used to play with a choir in Chicago called the Soul Children of Chicago.
There were a couple of different church drummers that I liked listening to. One was Dana Davis, who used to play with the Winans. Another was Joel Smith, who played with the Hawkins. Those were the gospel drummers that I listened to that influenced me on the gospel side.
When I was introduced to the other styles of music, it was Will Kennedy and the Yellowjackets, who really got me into jazz. That's who did it for me, because their records were musical. It was jazz, and at the same time it reminded me of gospel music. It was so melodic that it almost sounded like praise and worship music. That's what I liked about it. Advertisement
MD: From listening to you play on American Idol, it sounds like you have a lot of technique. Do you practice? And if so, what do you practice?
Teddy: I do practice, but I don't get the chance to as much now because I have a small child, and I'm always doing some kind of session or some kind of show. When I'm at home, I spend time with my little one and my eleven-year-old daughter. They require a lot of attention.
What I try to do, which I've found to really help my playing, is to listen to a lot of different music. I'm constantly listening to different things. I've got my iPod in the car. Plus you don't always want to be playing. You want to give yourself a break, you know?
MD: Is there anything you feel that you'd like to work on?
Teddy: I've been doing some salsa gigs here and there, and I'd like to get my salsa tighter. My favorite salsa band right now is Guaco. Advertisement
MD: Do you find that challenging to play?
Teddy: Yes. My favorite drummer right now for salsa is Jimmy Branly.
MD: How would you describe your playing?
Teddy: I would call it "churchy," with a raw overtone—and funky. I'm most comfortable playing grooves. And I'm always comfortable playing in church. That's my life. That's where it started and that's where it's going to end up. Everything else is just a blessing to be able to play. It's a blessing because a lot of people can't make that switch. It's not easy. And when the real cats who play whatever that style of music is, you want them to say, "Alright, man, you sounded good." You definitely want that validation.
MD: You want to sound authentic.
Teddy: Right. I don't want to sound like a church drummer playing salsa. I don't want to sound like a church drummer playing rock, pop, or jazz. I want to be a church drummer who can play the other stuff just as well.
Speaking of drummers who got their start in the church, right now, on the scene today, it's gospel drummers doing the playing, particularly on R&B and pop gigs. Everybody that you can think of that's on a pop or R&B gig—Keith Harris with Black Eyed Peas, Paul John Jr. with Alicia Keys, Aaron Spears with Usher, Gerald Heyward on the Rob Thomas solo CD—all come from a gospel background. Advertisement
MD: What's coming up in the future for you?
Teddy: A few things. But the thing I'm most excited about is touring with my group, the Soul Seekers.
MD: Any words of advice for drummers wanting to follow in your footsteps?
Teddy: I would say practice makes perfect in any situation. And you should definitely keep your ears open and listen to music. You don't have to practice on the drums all the time to get good. If there's no way you can sit down at a kit and play, you have to be able to just listen to music.
I also think it's very important to be versatile, because if you're going to be a drummer, you want to be a full and complete drummer. You don't just want to be the greatest hip-hop drummer or the greatest rock drummer. I know I don't. If I'm going to be a professional drummer, I want to be a professional drummer. I want to be able to play anything.
Some of the older guys who aren't working as much any more aren't doing so because they didn't make the shift. They didn't make the change from the funk stuff to the contemporary side and what people want to hear now. You've got to be able to make the switch, no matter how old you are. Your pride can't get in the way. Advertisement
Look at Vinnie Colaiuta. He can play anything. That's what I want to be able to do. I heard Vinnie on a Vanessa Brown record, and the music was kind of poppy and kind of funky. This cat was playing—I could have sworn he was a church player because of the way he made it feel.
MD: How would a church player sound?
Teddy: Everything just has more of a bounce to it. And you can't teach that, because I think it comes from the heart. It's a feeling—it's how you interpret it.
MD: It's not only physical, it's spiritual.
Teddy: Oh, yeah. Music can minister in a way that somebody just talking to you can't. But it has to be pure, it has to be right. I hear a lot of testimony from people saying that music saved their lives, and that there was a song that brought them to their knees to say, "Lord, I'm sorry." It's important. Music is very important. Advertisement