Pearl Canada – Drums For A Cure Project
Erikson Music, a division of JAM Industries, in association with Pearl Drums, Sabian Cymbals, Gator Bags, and Vater Percussion we have developed the 'DRUMS FOR A CURE' project to help fight Breast Cancer in Canada.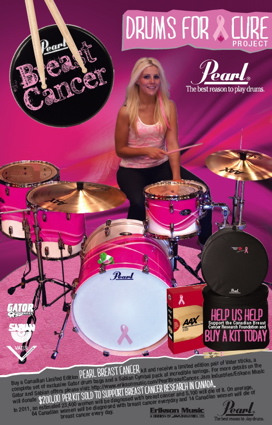 Erikson Music | Pearl Drums Canada has created a Limited Edition Pearl Breast Cancer kit to help support and raise money for breast cancer research in Canada. Erikson Music will donate $200.00 per kit sold to support breast cancer research in Canada. With a commitment of 100 kits the total donation amount to support breast cancer research will be $20,000.00.
In commemoration to the cause, Sabian Cymbals and Gator Cases will be offering consumers who purchase a kit a set of limited edition cymbals and bags respectively with the Pink Ribbon Logo and Vater Percussion will be giving away a free pair of limited edition sticks with the pink ribbon logo with every kit purchased. Advertisement
Dealers across Canada such as Steve's Music Store, Just Drums, Long & McQuade, Cosmo Music, Dave's Drumshop, Gagne et Frères, Italmelodie, Tom Lee Music, Campbell's Music, Music Centre Canada, Pongetti Music, Matt's Music, Music City, Sherwood Music, LA Music, Gear Music, The Arts Music, Jett Landry Music, La Zone Musicale, Noteworthy Music, Price Albert Music Centre, United Conservatory of Music along with many others will be actively participating to help support the cause by selling and displaying the Pearl Limited Edition Breast Cancer kit in their stores.
The VBA826WFPC500 Pearl Limited Edition Breast Cancer kit includes the HWP-890 series hardware pack. The shell configurations are a 22 x 18 bass drum, 12 x 9 tom, 14 x 14 and 16 x 16 floor toms and a 14 x 5.5 snare drum. The hardware pack includes a P-900 bass drum pedal, H-890 hi-hat stand, S-890 snare stand, BC-890 boom cymbal stand and a C-890 cymbal stand.
In 2011, an estimated 23,400 women will be diagnosed with breast cancer and 5,100 will die of it. On average, 64 Canadian women will be diagnosed with breast cancer everyday and 14 Canadian women will die of breast cancer everyday.
Help us help them and buy a kit today! Advertisement
Offer valid October 1, 2011 through March 31, 2012. Other terms and conditions apply, visit www.eriksonmusic.com/PearlBreastCancer for more information.