Drummer/Wellness Trainer Jen Hoeft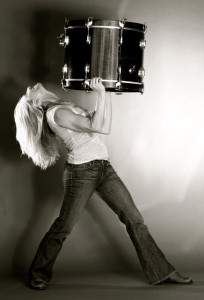 Hi, Modern Drummer readers! I'm Jen Hoeft, pro drummer, author, and yoga instructor based in Nashville, Tennessee. Drumming is my golden thread and weaves through my life in a constant, magical, shiny, solid, mystical, and groovy way. Drumming has challenged and nurtured my sense of self and my connection to the world.
I earned a master's degree in performance/conducting from the University of Arizona and moved to Nashville to perform. I have worked with the Wooten Brothers and played on Victor Wooten's first two records. I've recorded and toured with BNA recording artists the Warren Brothers, toured Europe with the legendary Earl Gaines and Canada with Sony artist Tara Hart.
On the road (and reading Modern Drummer), my passion for wellness grew. I needed to know how to balance a road-warrior lifestyle with wanting to be a healthy human being. I became a personal trainer and a certified yoga instructor and developed workout programs that I (and others) could use on the road. This led to the writing of my book FUNdamental Fitness. Advertisement
Blending the two worlds, drumming and wellness, is coming full circle now. I play in a jazz duo with Teri Reid, as well as in an amazing show-band orchestra, the Pat Patrick Band. An original project is in the works. (Check out the links below.)
I am honored to write health and wellness articles for MD, work as a drum circle facilitator for Catalyst Events, and present Wellness Workshops for PASIC!
PASIC 2011 in Indianapolis this past weekend was fabulous. The 50th-anniversary event included daily morning workouts for percussionists (Yoga with me, Alexander Techniques with Rob Falvo, and Strength and Conditioning with Sherry Rubins), along with hundreds of drumming workshops.
I endorse Zildjian cymbals and play four drumkits: a '60s Gretsch kit at home; a '60s Slingerland cocktail kit for jazz; an '80s Ludwig kit for rehearsals; and a new Yamaha Maple Custom Beauty for the big band. Fun! Advertisement
Thank you for reading. I'd love to hear how you are staying healthy in this fantastic, rhythmic, physical, spiritual, powerful journey!
For more on Jen Hoeft, go to www.jenhoeft.com. And to watch a clip of Jen performing, go to www.youtube.com/watch?v=9jBOAGA60og&feature=email.