October Web Update News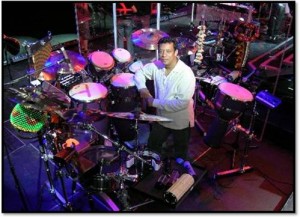 Congratulations to drummer/percussionist Richard Bravo for his eight nominations for the 12th Annual Latin Grammy Awards, to be held in November in Las Vegas. Read Bravo's archived MD blog here. 

Kris Myers and Andy Farag are on Umphrey's McGee's latest, Death by Stereo. For tour dates and more, visit www.umphreysmcgee.com.
Bobby Jarzombek is on Sebastian Bach's new CD, Kicking & Screaming. Check out Jarzombek's studio cam in the video section of moderndrummer.com.
Cherri Bomb featuring Nia Lovelis wrapped up its European tour and has a five-song EP, Stark. For more, visit www.cherribombband.com. Also check out Lovelis's blog on moderndrummer.com.
Daniel de los Reyes is playing percussion with Zac Brown's band (featuring drummer Chris Fryar). Check out a live drum-duel clip here: www.youtube.com/watch?v=RlpSEsqaspI.
And Speaking of Scorpions… Autobiography of Herman 'Ze German' Rarebell by Herman Rarebell with Michael Krikorian takes readers inside the rise of the rock band Scorpions from the perspective of its drummer and co-songwriter. For more info, visit moderndrummer-com.go-vip.net/2011/09/new-autobiography-offers-look-inside-80s-rock-icons-scorpions/#.To3Dlq5xvkY, and www.hermanrarebell.com.
Xavier Muriel and Buckcherry have been on the road for the past fourteen months supporting their latest record, All Night Long. Next up they'll be touring with Guns N' Roses starting in late October, and then they'll head into the studio to start working on a new record. For more on Muriel, go to moderndrummer-com.go-vip.net/2008/09/xavier-muriel/#.To3DMK5xvkY. For tour dates, visit www.buckcherry.com.
Tobias Ralph is on the Two of a Perfect Trio tour with the Adrian Belew Power Trio. For tour dates and more, visit http://tobiasralph.com.
Hinder's Cody Hanson coproduced and cowrote 9 Left Dead's debut, The Wrong Things, with Bryan Whitley on drums. (Whitley also provided the album artwork.) For more, visit www.9leftdead.com.
The Original 7ven consists of all the original members (Morris Day, Jesse Johnson, Jimmy Jam, Terry Lewis, Jerome Benton, Jellybean Johnson, and Monte Moir) of the legendary Minneapolis funk band formerly known as the Time. The new record is called Condensate, and it's the band's first outing together in twenty-one years. Advertisement
Marvin McQuitty's wife, Kim McQuitty, has a book out called Me, My Man & His Music: My Life as a Musician's Wife. For more info, visit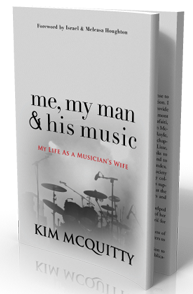 www.kimmcquitty.com.
Jeff Cosgrove has released his first recording as a leader, Motian Sickness: The Music of Paul Motian. The CD also features Jamie Masefield (Jazz Mandolin Project, BadHat) on mandolin, Mat Maneri (Cecil Taylor, William Parker) on viola, and John Hebert (Fred Hersch, Mary Halvorson, Andrew Hill) on bass. You can hear it on iTunes, with two bonus tracks: http://itunes.apple.com/us/album/for-the-love-of-sarah/id463374724.
Mick Fleetwood, drummer/cofounder of Fleetwood Mac, and singer-songwriter Nicole Atkins have been tapped as the first acts to front the Off the Record music conversation series presented by Cabo Wabo Tequila (founded by Sammy Hagar). The act came together in Fleetwood's hometown of Maui, at his new bar Fleetwood's on Front Street (opening early 2012), to share tales of career beginnings, legendary nights on stage, song inspirations, tour secrets, and rumored band romances. Their musical journey was captured on video for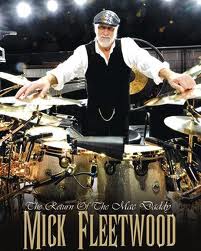 Off the Record; go to www.YouTube.com/CaboWabo.
Indianapolis jazz drummer Gene Markiewicz will be inducted into the Indianapolis Jazz Foundation Hall of Fame on November 17. Check out his blog at moderndrummer.com.
Steve Gadd is on Cinque's Catch a Corner CD. For more, go to www.almarecords.com.
Joe Bonadio is on Deep Purple bassist Roger Glover's solo release And the Guilty Party. For more, visit www.rogerglover.com.
Paul Motian is on The Windmills Of Your Mind CD, with Bill Frisell and others. Read Motian's MD archived Update here: moderndrummer-com.go-vip.net/updatefull/200001522.
Hard rockers Kittie and Mercedes Lander are back with I've Failed You. Revisit Lander's archived MD interview here: moderndrummer-com.go-vip.net/web_exclusive/900001130/Mercedes%20Lander.
Ali Jackson is on the two-disc CD/DVD Wynton Marsalis & Eric Clapton Play the Blues Live From Jazz at Lincoln Center. For more, visit www.rhino.com/shop/product/wynton-marsalis-and-eric-clapton-jazz-lincoln-center-wynton-marsalis-and-eric-clapton-play-the-blues. Advertisement
Ray Brinker is on the Tierney Sutton Band's latest, American Road. For more, visit www.bfmjazz.com/artists/artist_detail/38.
Matt Traynor is on Blessthefall's Awakening. For more, visit www.blessthefall.com.
Wayne Proctor has been named Best Drummer by the 2011 British Blues Awards. He also received a second award, for Best Band, with Oli Brown. Proctor is currently on tour with Brown, supporting John Mayall in the U.K., and is working on Brown's next record, which the drummer is also producing. For more, visit www.wayneproctormusic.co.uk.
Rooney frontman Robert Schwartzman is playing drums on first solo release, Double Capricorn. Tom Roslak will be in the drum chair for the tour. For tour dates and more, visit www.robertschwartzman.com.
Richard Marcangelo is on U.K. singer-songwriter Rumer's debut, Seasons of My Soul. You can check out Rumer's EPK here: www.youtube.com/watch?v=M7XDrQFA65I&feature=related.
Read about all your favorite drummers and more at moderndrummer.com.