J.P. "Thunderbolt" Patterson: Punk Rock Renaissance Man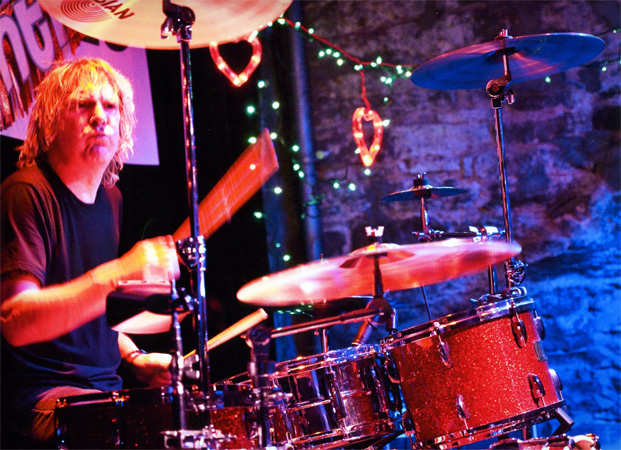 From copping Cozy Powell's licks as a youngster in Afghanistan—where his father worked for the U.S. embassy—to carving out a dual career for himself in New York as both a drummer and an actor, it's been a colorful life for J.P. "Thunderbolt" Patterson. MD recently spoke with J.P., who's played with punk legends the Dictators, Manitoba's Wild Kingdom, the Voluptuous Horror of Karen Black, Patti Rothberg, Richard Lloyd, and his own band, and whose acting work has seen him in bed with a young Tawny Kitaen, selling ecstasy on The Sopranos, and appearing in a Capitol One commercial with Jerry Stiller.
MD: What kind of access and exposure did you have to drums and rock music growing up in Afghanistan in the late '60s and early '70s?
J.P.: There was a Phillips record store on the other side of town where you could get the British imports, a lot of Beatles and Stones. And the United States Information Service used to send us movies. Monterey Pop came through and Keith Moon blew the top of my head off. I had been playing drums since I was four (in the U.S.), and in Afghanistan I had a gold sparkle Sears Silvertone kit, which we shipped over.
MD: How did you wind up acting?
J.P.: When I got to New York in the mid-'80s, I thought, "I have to try to do everything I can here—throw everything against the wall and see if it sticks." A friend of my wife was a casting director, and Miami Vice was coming to town for their season premiere. The casting director saw a picture of me and brought me in for an interview to be Don Johnson's stand in. I was too tall but I had the long hair, so they said, "We have to use you for something." So the same company put me in a film a week later, and that got me in the union. Advertisement
MD: Were you getting hooked into the New York music scene around the same time?
J.P.: Yes. My first audition and gig was with a guy named Timmy Cappello. He's Tina Turner's sax player from the '80s—the guy who looks like Conan the Barbarian. He had a band called Timmy Cappello and the Ken Dolls. He was in a G-string with the whole Conan look. And everybody else was dressed as a Ken doll. From there I answered an ad in the Village Voice for Andy Shernoff, who was the songwriter and the brains/founder behind the Dictators, for his other project, and that's what brought me into the Dictators' universe. That's been an on again, off again thing, and it led to Wild Kingdom.
MD: And Manitoba's Wild Kingdom hit big on MTV with "The Party Starts Now."
J.P.: Yeah, it got to number seven on [phone-in request show] Dial MTV. I remember I was working on a film one day and had all this down time. So I was at a pay phone calling the MTV request number over and over and over. [Laughs]
MD: Your solo material leans more traditional guitar pop and rock, somewhere between Thin Lizzy and Cheap Trick. Is that you consciously embracing styles you don't really get to explore playing with a frontman like Handsome Dick Manitoba or a guitarist like Richard Lloyd? Advertisement
J.P.: It's just what comes tumbling out of my brain, I guess. I love being a sideman. I love playing with Richard Lloyd. Love watching his left hand to see where he's going to go next, even though we've rehearsed the stuff forever. I love being the catcher for him, for Handsome Dick—sitting back there and calling the game. But when I get down time, I have to do something. And pop-rock with harmonies—that's always been exciting to me.