In Memoriam: Willie "Big Eyes??? Smith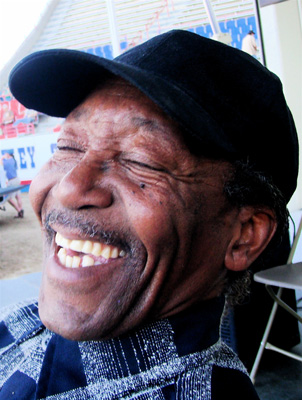 Willie "Big Eyes" Smith, one of the great practitioners of a true American art form, was lost to blues fans around the world when he passed on September 16, 2011. The harmonica player, drummer, singer, and composer, who gained international notoriety as Muddy Waters' longtime bandleader, was bravely fighting bone cancer when he was felled by complications from a stroke.
Born in 1936 and hailing from Helena, Arkansas, Smith was weaned (much like fellow Arkansan Levon Helm) on live radio via the King Biscuit shows and the dynamic harmonica of Sonny Boy Williamson. At seventeen, learning the instrument himself, Smith followed the music to its source and moved to Chicago, armed and ready to make his own mark.
His arrival on the national scene came in 1955, on Bo Diddley's song "Diddy Wah Diddy," recorded for impresario Leonard Chess's Checker label. Around that time, Smith switched to drums and began to play and record with Muddy Waters. Becoming a regular band member in 1961, Willie saw his star continue to rise with his innovative approach to blending Delta and urban blues forms. His style (he played left-handed on a right-handed kit) was both laid-back and energized at once. And whether he was playing a slow 12/8 or one of his patented shuffles, hitting just behind the beat, he drove a band like no one else. Advertisement
After a lean period in the mid-'60s when he was out of the band, Smith remained with Waters from 1968 to 1980 and played an important role in the blues icon's success on Grammy-winning albums such as Hard Again, I'm Ready, and Muddy "Mississippi" Waters Live.
Like many artists of the genre, Smith found that his greatest acclaim came in his later years. In 1980 he started the Legendary Blues Band, which among other accomplishments backed the illustrious John Lee Hooker in the hit movie The Blues Brothers. Over the course of seven albums with the LBB, Smith honed his singing skills to a very high level, and the group gained wide notoriety by touring with Bob Dylan, the Rolling Stones, and Eric Clapton. In 1995, remaining true to his traditional roots, Smith launched a series of solo works beginning with the album Way Back (2006), which featured many of his own compositions and netted a Blues Foundation award for his drumming.
Fittingly, at seventy-five years young, Smith saw his talents acknowledged prestigiously this past February, with a Grammy for Best Traditional Blues Album for Joined at the Hip with the late pianist Pinetop Perkins. Advertisement
Bob Girouard