What Do You Know About…? John Weathers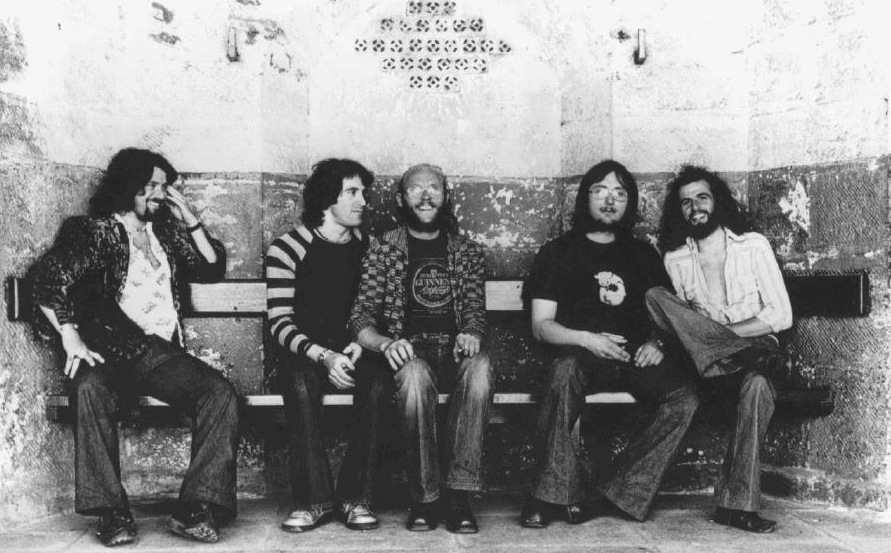 by Will Romano
John Weathers is one of the unsung drumming heroes of the 1970s' progressive rock era. Weathers' ability to maintain a steady pulse as a dense, musical matrix unfolded around him helped ground the complex compositions recorded and performed by one of prog's most original acts, Gentle Giant.
While Gentle Giant has always been closely identified with austere forms such as European liturgical, Renaissance, medieval, and classical music, much of the band's approach revolved around rhythm in all forms, from intricate counterpoint melodies to odd-tempo finger snaps to edited-together bits of sound effects such as the coordinated mass of shattered glass creating cyclical patterns during the introduction of "The Runaway," from 1973's In A Glass House.
Weathers' deftly executed patterns cut through the compositional complexity found on stellar efforts such as The Power And The Glory, Free Hand, In'terview, and the live Playing The Fool, which have been recently remastered and reissued in both CD and digital formats on the band's own Alucard record label. "I was a soul and R&B drummer," says Weathers, sixty-three, from his home in Wales. "I've always tried to get down to the root of the song. If you phrase every little thing that crops up in the music, it ends up in mishmash." Advertisement
About a decade ago Weathers was shocked to discover he was losing some of his motor skills and could no longer play the bass drum. "I was diagnosed with spinocerebellar ataxia, Greek for 'walking as if you were drunk' or something like that," he shares. "One day I went to take a bath and realized that one leg felt the warm water and the other didn't. It felt cold. That's when I knew something was wrong."
While Weathers admits he isn't the drummer he once was, don't count him out. In recent years he has performed with his onetime band Wild Turkey and was spotted on stage pounding out rhythms on a Roland HandSonic HPD-15 electronic hand-percussion pad in 2005 at a Gentle Giant fan convention in Quebec, along with former Giant alums Gary Green (guitar) and Kerry Minnear (keyboards/percussion).
"The Gentle Giant convention was the first time I came across the Roland pads, and I actually borrowed them for the performance," Weathers says. "It may not be a complete kit, and I'm only punching out beats, but don't forget that drummers are pugilists. They're fighters. They may not fight with other people, but they certainly take the kit on stage and beat the hell out of it." Advertisement
It's been this same scrappy determination that's defined Weathers' playing style, career, and life. Born in Carmarthen, Wales, and seduced by the seditious and seductive beats of early rock 'n' roll and British skiffle, John was inspired to pick up "knitting needles and play the back of wooden chairs at age thirteen," until he received his first drumkit a year later. "Then I got in with a bad bunch of kids, 'borrowing' cars," he says. "Not long after that, when I was fifteen, I ran away from home and went to live with relatives in Liverpool."
Not content to surrender himself to the thug life, Weathers devoted his time to drumming, having fallen in with various musicians in Liverpool, until the prodigal percussionist returned to Carmarthen and reached his first major career plateau. "I had turned pro by sixteen," he recalls, "and later turned up in a band, Eyes Of Blue, that won the Melody Maker Beat Competition in 1966, which led to us getting a record contract with Decca." Weathers' stint with Eyes Of Blue, a group that moved from soul to classically influenced psychedelia, was a great foundation for his later work with Giant, which had transformed itself in a similar way from an R&B/pop act—called Simon Dupree And The Big Sound—to prog pioneers.
Through contact he made with Gentle Giant's Phil, Derek, and Ray Shulman, Weathers, then a member of the Grease Band with bassist Alan Spenner and guitarist/vocalist Henry McCullough, joined Giant on a temporary basis for a 1972 American tour. He was filling in for injured drummer Malcolm Mortimore, who'd broken bones in his pelvis, arms, and legs in a motorcycle accident. Where Mortimore took a jazzer's approach to Gentle Giant's compositions, Weathers dug into the music, plying his groove-based talents, a byproduct of his years on Liverpool's R&B and Merseybeat circuit, and was soon asked to replace Mortimore permanently. "I tried to phrase what I thought was important and necessary for each song, so the listener wouldn't lose the tune," Weathers says. "That was one of the reasons I got the job." Advertisement

Weathers not only created a foundation for musical exploration but also began stretching himself as a musician, especially on stage. Gentle Giant's dazzling live performances were legendary, due in part to each band member's ability to play more than one instrument. Indeed, Weathers would often finesse the vibes or strum a guitar, demonstrating the depth of technical competency within the group's ranks. "Switching instruments established what we were about, but it was also fun," he says. "We always wanted people in the audience to enjoy the show as much as we were enjoying it."
Studio records, and in particular 1973's Octopus—Weathers' first "Giant" step—provided glimpses into the band's uncanny versatility and ingenuity. "The song 'River' had three of us playing percussion—me, keyboardist Kerry Minnear, who had a degree in percussion, and Gary Green, who started off as a drummer," Weathers says. "It also features strange sounds that I made through a little trick I'd learned. What I'd do is plug a 1/4″ plastic hose into the breather hole of the drum shell, usually a 13″ tom, and force air through it. By blowing into the tube, I created this sonic yo-yo effect—the pitch of the drum went up and down while I played double-stroke rolls."
Achieving the proper results in the studio was hard work. Weathers remembers some of the early sessions as both stressful and taxing. "When Ray Shulman came with 'The Boys In The Band' from Octopus, I nearly died," he recalls. "I said, 'What do you expect me to do?' He said, 'Play it.' I said, 'Come back in three weeks!'" Advertisement
"One of the problems recording Gentle Giant was the intricate nature of their arrangements," says producer Martin Rushent, who worked closely with the band as a recording engineer for the Octopus record. "Musically it fit together very well on paper. But unless you recorded the drums correctly, it sounded like a mess, because of all the tracks that would be overdubbed. Redoing the drum tracks midway through the recording process would have been a nightmare. Because of this, John needed to be a precise. He was."
Throughout the '70s, Giant secured a cult following with its uncompromising artistic direction and muso-friendly shows, in large part thanks to Weathers' steady hands and feet. It's also been said that the drummer helped to hold the band together when Phil Shulman, a major creative force, decided to leave in the early '70s. But seemingly endless touring and the nature of the record business began taking their toll. Pressured by its label to write hit singles, and growing tired of watching its prog compatriots achieve commercial success, Gentle Giant condensed and tampered with its approach for releases such as 1977's The Missing Piece, 1978's Giant For A Day!, and 1980's new wave–ish Civilian. "I remember with The Missing Piece, most of the songs were recorded in one take," Weathers says. "We really rehearsed that material, but it came out a bit slick, I think."
Time has been kind to the latter-day Gentle Giant recordings, but in the late '70s the band was out of step with the mainstream. Even some diehard fans thought the group had reached its creative peak years earlier. Ultimately, by 1980, Giant had called it quits. Various members pursued other interests. Singer/saxophonist Derek Shulman, for instance, became a record industry bigwig, instrumental in signing acts like Nickelback, Pantera, Cinderella, Dream Theater, and Bon Jovi. Weathers kept busy in the '80s and '90s by joining the re-formed Welsh band Man and performing on various recording sessions and for Welsh TV. Advertisement
Though the new millennium has brought new challenges, Weathers has learned some valuable lessons: "I've accepted my physical condition," he says. "It is what it is. One of my most prized possessions, a classic mid-1960s champagne pink sparkle Ludwig Superclassic kit I acquired as a member of Eyes Of Blue, has seen better days and lies in cases on the second floor of my house. I've gotten a lot of mileage out of those drums. No matter how hard I tried, I couldn't beat them into submission. They never really broke down. I'm planning on giving them to Kerry Minnear's son, who's a drummer. It's something I want to do. Plus it'd be great to see someone else give it a try."