Nick Crescenzo of the Dear Hunter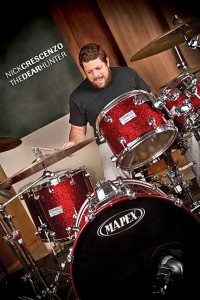 It's been a while since my last blog for Modern Drummer, and a lot has happened with the music of the Dear Hunter since then. I've also upgraded my drumset and cymbals. Since my last update, the Dear Hunter has released The Color Spectrum, a conceptually based release that is comprised of nine separate EPs, one for each of the seven colors of the color spectrum (red, orange, yellow, green, blue, indigo, and violet) as well as black and white. The idea was to write music off the script of the Dear Hunter and to freely express our writing style in a wide variety of genres. Each EP of The Color Spectrum is different and unique, though it comes off as a fluid body of work; each EP can stand alone or they can all be played from start to finish for over two hours and thirty minutes of music.
When we started recording The Color Spectrum, it was imperative to have a drumset that could complement a wide variety of styles and sounds without sounding like the same kit on every EP. I believe I found that in the Mapex Saturn Series drums. I used the 7×14 Mapex Phat Bob Black Panther snare for nearly every song. This snare was so versatile and well made that I could tune it to any tension I wanted and play it with any intensity, and day after day it would perform without fail. Every day that snare exceeded my expectations, and it just sounded so good that I had a hard time thinking about using anything else.
The toms and the kick on the Saturn Series kit—10″ and 12″ rack toms and 14″ and 16″ floor toms—were equally amazing. I play an 18×22 kick drum, because I like the response that this size gives, but I also like how tight it can sound compared to some of the larger kick drum sizes. That being said, the kit almost never needed tuning and it sounded great in every studio. I have started playing Meinl cymbals exclusively, and I think they are the perfect complement to my drumkit. I mainly used 14″ Byzance hats along with an M Series ride and some Mb10 Series crashes. Man, did they stand up to some serious punishment without even flinching. They sounded great every day and gave me the variety and textures I've been looking for. I've never played a nicer kit than the one I have now, and I'm so thankful to Meinl and Mapex for supporting me on the road and in the studio. Advertisement
We were fortunate with The Color Spectrum to work with producers like Mike Watts, Steve Haigler, Mike Poorman, Andy Hull, and the guys in Manchester Orchestra, as well as to play with several musicians like Brenden Brown of TREOS on the Orange EP, Tanner Merritt of O'Brother with Manchester Orchestra on the Red EP, and Naive Thieves on the Blue and Yellow EPs, to name a few. We couldn't have completed this project without their contributions and those of many others in the studio and behind the scenes, who helped flesh out the sounds and bring this idea to life.
We recently finished our first national headlining tour with the help of Kay Kay & His Weathered Underground, O'Brother, Naive Thieves, and the Felix Culpa. I had an amazing time, and I enjoyed the music from all the other bands so much that it was much less like going to work every day and much more like an extended vacation. Truly amazing bands with great people—what more could you ask for?
Next on the horizon is a full U.S. tour with Manchester Orchestra and White Denim. The tour kicks off in Houston on the 21st of October and will run until late November. So check out the tour dates, and if we're in your area, come out and have a good time. Advertisement
Photo: Dune Baydoun, Cake or Death Productions. For more on Nick Crescenzo and the Dear Hunter, go to www.thedearhunter.com.