LaMel Randolph of Lionize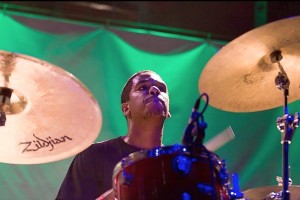 Hello, MD readers! My name is LaMel Randolph; I play drums in the band Lionize, based out of Silver Spring, Maryland. This year we released our latest album, Destruction Manuel, we played the Warped tour and Bonnaroo Festival, and we're already writing and recording a new batch of songs. And when I'm not practicing with the band, I'm behind the kit as much as possible on my own time.
I started playing at the age of eleven. Prior to that I vaguely remember listening to my dad's records and beating on things with my hands. Somehow I figured out that the drums were it for me. I took lessons for about two years, and I remember everything feeling very natural as I was learning all the foundations of drumming.
During my sophomore and junior years in high school, I played the snare in marching band. That was when I really started learning more about drumming. My instructor had a jazz background, which led me to get into Art Blakey, Tony Williams, and Buddy Rich. I sat down with him every day behind the kit and took in a lot. His thing was PRACTICE. I would go home and try to get as much time in on the kit as possible, listening to many different types of music, practicing to a metronome, or just taking a simple pocket groove and playing it over and over again. Advertisement
There are so many ways a drummer can practice, which is incredible to me. As a drummer today, one thing I realize with this instrument is that you never really conquer everything in your playing, unless you're Elvin Jones or Mitch Mitchell. I'm still learning more and more about playing.
The things I enjoy the most about playing drums are touring, writing/recording, and trying to find different sounds in the drums. Lately I've become very inspired by vintage drums and big sizes. A lot of that comes from a handful of drummers I have followed over the years, like John Bonham of Led Zeppelin and Jean Paul Gaster of Clutch.
With the band working as hard as we do, I am extremely thankful to be able to wake up every day and play, and I do not take it for granted. Thanks to Modern Drummer for this opportunity!
For more on LaMel Randolph and Lionize, go to www.Lionizemusic.com.