Felipe Torres 2011 Blog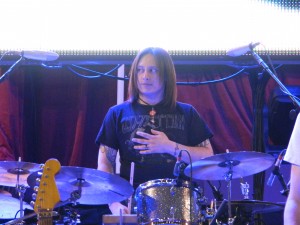 Hello, Modern Drummers, and thanks again for checking out my blog! Felipe Torres here. It's been a while since I checked in, and I wanted to share with you some of the fun and amazing things that I've experienced this year thanks to my drums.
This year literally started with a bang as I played a double drumming New Year's gig with Carmine Appice's show SLAMM, who you may remember from the 2008 Modern Drummer Festival. March marked my first drum clinic tour, and I would like to thank all the great people at Amedia cymbals, Vic Firth, KickPort, Rhythm Tech, Maxonix, Evans drumheads, and ddrum. Then I left for my first U.K. tour with the Monkees! Micky, Davy, and Peter were together again for their forty-fifth-anniversary tour, and getting to play all that timeless music with them was a dream come true.
Twelve years ago I started studying with the great Sandy Gennaro at NYC's Drummers Collective, and that's where I met Davy Jones. Thanks to that chance meeting and Sandy's great instruction, I became his sub on the Davy gig. I started traveling a lot and kept studying with many of New York's finest drummers, recording and teaching privately as well. But when Sandy became Bo Diddley's musical director, I got the permanent seat in Davy's band. We have now been all over the U.S., Canada, and Japan and on several network TV shows. Advertisement
When the Monkees reunited, it was an honor to be asked by them to be in the band. Micky had always played drums live but had not drummed in ten years, so we started working together at the end of March, side by side. To double drum with another rock icon and have him call me his teacher…that is truly awesome! It was great to learn from Micky as well, as he has his own style. He plays right-handed but left-footed and keeps his eyes closed to really feel the drums while he also sings. Being a singing drummer myself, and approaching all these classic Hal Blaine and "Fast" Eddie Hoh drum parts with as much accuracy as I can, took months of wood shedding, listening, and recording myself. I also charted every note for about seventy tunes to really feel prepared to play for all of the loyal Monkees fans.
So between playing all over the map, from London's Royal Albert Hall to NYC's Beacon Theater and L.A.'s Greek Theater, as well as on TV shows like The View, it's been busy to say the least. When there is downtime, I have continued to teach privately, online through Skype lessons, and via my online lesson series, Flip Of The Week. I also write and record with my progressive rock trio, In Musth.
Happy drumming!
For more on In Musth visit www.inmusth.com. And to watch clips of Felipe, go to www.youtube.com/watch?v=Wsc9dBRkFvo, www.youtube.com/watch?v=YgxpjTtvlpI, www.youtube.com/watch?v=DAJG_UqzSEs&feature=channel_video_title, www.youtube.com/watch?v=5PMugzJKfV4&feature=relmfu, www.youtube.com/watch?v=7YKfMK5DgQI&playnext=1&list=PLE2EA0B50036E6A2F, or www.youtube.com/watch?v=X598jw6P168. Advertisement