Web Update News 8/11

Thomas Pridgen is on tour with his band the Memorials. For more info, visit www.myspace.com/thememorialsmusic.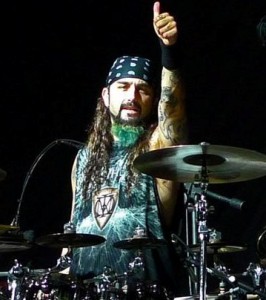 Mike Portnoy has a new project called Adrenaline Mob. For more, visit www.mikeportnoy.com.
Richard Danielson is on Vintage Trouble's debut, The Bomb Shelter Sessions. For more, visit www.vintagetrouble.com. And to watch a live performance, go to http://www.youtube.com/watch?v=lsw4ipHcMvY.
MD managing editor Mike Dawson is on Corevalay's debut EP, This Beautiful Ride. The NJ band also features MDart director Gerald Vitale. Check it out at: www.corevalay.com.
Jonathan Diener is on the Swellers' Good for Me. For more, visit theswellers.com.
Los Angeles–based singer-songwriter Andy Grammer has a self-titled full-length record out. The CD features drummers Mike Baker, Victor Indrizzo, Stefan Litrownik, Barrett Yeretsian, and Nir Z. For more, visit here.

Simon Kirke is on Bad Company's Live at Wembley CD/DVD combo. The legendary classic rockers captured their performance in April 2010. For more, visit www.eaglerockent.com. Kirke also has a solo CD, Filling the Void. For more, visit www.freewebs.com/simonkirke/news.htm. Advertisement
Kelly Keagy is on Night Ranger's latest, Somewhere in California. The band is celebrating its thirtieth anniversary. For tour dates and more, visit www.nightranger.com.
Bernard Davis is on Eluriel "Tinker" Barfield's It Is What It Is. Steve Kroon is on percussion. For more, visit www.keosp.com.
Land Richards is on Bobby Caldwell's Live at the Blue Note Tokyo. For more on Caldwell, visit www.bobbycaldwell.com.
Walfredo Reyes Jr. is on Lindsey Buckingham's upcoming solo album, Seeds We Sow. For CD info and tour dates, visit www.lindseybuckingham.com.
Robert Ortiz is touring with Escape the Fate, promoting the band's recent self-titled CD. For more, visit www.escapethefate.com.
Jack Lawless is on Ocean Grove's self-released EP Another Place to Stay. For tour dates and more, visit www.oceangroveband.com.
Rock 'n' Roll Fantasy Camp comes to the New York area August 12 through 14. The weekend kicks off in New York City, where campers will meet their rock star counselors and bandmates and practice at Gibson Rehearsal Studios. After several days of jamming and rehearsing with guest stars including drummers Chris Slade and Sandy Gennaro, among many others, campers will take a bus to the Bethel Woods Center for the Arts, home of the original Woodstock festival, where they'll be the opening act for Blood Sweat & Tears, Tommy James & the Shondells, and the Family Stone. For more info, visit www.rockcamp.com.
Aaron Steele is on Aabaraki's self-titled seven-song EP. For more, visit www.facebook.com/pages/Aabaraki/132483590124312?sk=wall.
Ryan MacMillan (Matchbox 20) plays drums on singer-songwriter TJay's forthcoming release. For more, visit www.tjaymusic.com.
Rich Mercurio is on Alec Gross's latest, Strip the Lanterns. For more, visit www.alecgross.com.
Felipe Torres is on tour with the Monkees (featuring Micky Dolenz). For more with Torres, check out www.youtube.com/ftdrum456.
Glen Campbell will release his final record, Ghost on the Canvas, on August 30. Sadly, Campbell was recently diagnosed with the early stages of Alzheimer's disease. Ghost features many guest musicians, including drummers Josh Freese, Vinnie Colaiuta, and Aaron Sterling. For more, visit surfdog.com/glencampbellshow/index.html.
Mike Pietrusko is on Queen Electric's self-titled debut. Grammy-winning artist/frontman Scot Sax wrote all the songs on the CD, and Grammy-winning producer and engineer Tim Sonnefeld produced the album. Check it out at queenelectric.bandcamp.com. Advertisement
Stax Records has two new reissues. Al Jackson Jr. is on Booker T & the MGs' Beatles tribute, McLemore Avenue, and Roger Hawkins is on the Staple Singers' Be Altitude: Respect Yourself.  For more, visit www.concordmusicgroup.com.
Also reissued is Jean-Paul Gaster on Clutch's Blast Tyrant. For more on Gaster, check out his MD archive interview at moderndrummer-com.go-vip.net/updatefull.
Keep an ear out for Chico Hamilton's upcoming tracks on a trio of releases in September, in celebration of the drummer's ninetieth birthday. Also on the CDs will be drummer/percussionist Jeremy Carlstedt. For more info, visit www.joyousshout.com.
Jim Bogios is on the Counting Crows' CD/DVD and first ever Blu-ray, August and Everything After: Live at Town Hall. For more, visit www.eaglerockent.com.
Jason Rullo is on Symphony X's Iconoclast. For more, visit www.symphonyx.com.
Atma Anur played drums on and coproduced Bert Elliot's Asylum in Playland.  For more on the album, visit www.cdbaby.com/cd/bertelliot1.
Congrats to Clem Burke on being awarded an honorary doctorate of music by the University of Gloucestershire. You can check out Burke on Blondie's upcoming release, Panic of Girls. For more on the drummer, visit www.clemburkedrummingproject.com. Advertisement
Aquarian's new website is up and running with a fresh look and an all-new Roy Burns page updated with videos, a bio, and pictures. Check it all out at www.aquariandrumheads.com.
Jose Pasillas is on the latest from Incubus, If Not Now, When? Brendan O'Brien produced the album. Check out the video for "Promises, Promises" at www.enjoyincubus.com/us/promisespromises.
Daniel Zott is playing and programming drums on Dale Earnhardt Jr. Jr.'s debut album, It's a Corporate World. For more, visit www.daleearnhardtjrjr.com.