Lou Vecchio of New Politics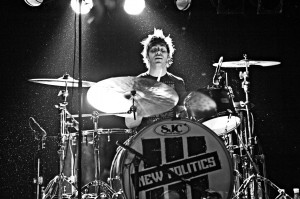 Hello to all Modern Drummer readers out there! My name is Lou Vecchio, from Long Island, New York. Currently I'm playing full-time with New Politics, based out of Brooklyn, New York, but originally from Copenhagen, Denmark. I also do some independent and session work out of NYC when I'm not on the road.
I am a third-generation drummer. The way I really started shaping my craft was by playing along to any album that I had access to. Not only was I lucky enough to always have drums, but I also had parents that let me play as loud as I wanted for as long as I wanted.
I played in school marching bands, jazz bands, and ensembles up until ninth grade. I joined my first real band at seventeen, and from that point I fell in love with everything that drums and music had to offer. I played in many local bands, but it was at nineteen that I recorded for the first time in a real studio. The engineer and producer of the record, Rob Guariglia, took a liking to me and to my playing. He turned out to be a great friend and has kept me busy with session work in his studio.
Over the next year my playing improved dramatically. At this time I really wasn't playing out—only recording—and I really wanted to get back on stage. I entered Guitar Center's Drum Off competition in 2003 and ended up placing third, but out of it I booked a full-time touring gig for the next four years with Disney artist Greg Raposo. He happened to see me playing and approached me after.
After leaving Greg Raposo I landed another pop gig, playing for Universal Motown artist Vita Chambers. We did some touring, including a leg of Justin Bieber's My World tour. Through Vita's videographer I was introduced to New Politics, and I've been on tour with them for the last eight months. We're writing our follow-up record for RCA, which is the first major label record I've ever been a part of—I'm super excited!
I've never been much of a gear head. I always play what I think sounds good and what holds up. I play SJC drums, Vater XD-5B sticks, Evans G2 and EMAD heads, and Sabian HHX cymbals. I'm lucky to be supported by all of these companies, who have been very instrumental in my career. Thanks for that, dudes!
For more on Lou Vecchio, go to www.youtube.com/user/illrock24, www.facebook.com/newpolitics, www.myspace.com/newpoliticsrock, or www.myspace.com/louvecchio.