Jess Bowen of the Summer Set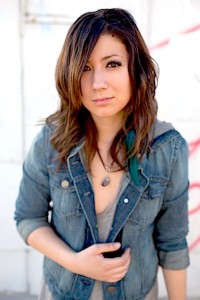 Hello again, Modern Drummer readers! My name is Jess Bowen, and this is my second blog for MD. If this is your first time reading, here's a basic run-through of my band and myself. I play for a pop-rock group called the Summer Set, based out of Arizona and signed to the wonderful label Razor & Tie. I started playing about ten years ago, when my father, who was also a drummer, informed me that I would need to take up the drums before he would buy me the guitar that I always wanted. Ten years later, and still no guitar. (Thanks, Pop!) Luckily, growing up in a family of drummers (my older brother played as well), I naturally acquired rhythm and coordination simply from listening to them play every day.
I started out by playing in the school jazz band, with Buddy Rich's "Mercy Mercy Mercy" being the first song I learned to play while sight-reading. After a few rehearsals, I realized that reading the music was keeping me from actually feeling it, and I took the initiative to scrap the sheet music and play the song by ear. I'm sure all you drummers can agree, you have to be able to feel the song in order to get into your own groove!
Eventually I was approached by some of my friends when we were in the 8th grade, asking if I'd be interested in joining their band to play covers of Blink-182 and Green Day songs. Of course at the time these were some of my favorite bands, so I happily agreed. We continued playing around locally, and eventually in 2007, with a few lineup changes, we formed the Summer Set. Since then, we've been lucky to have shared the stage with artists and bands that I admire and look up to, and have acquired some amazing friendships along the way. Advertisement
Speaking of friendships, we recently got off tour with All Time Low, Yellowcard, and Hey Monday, which was probably my favorite tour we've been a part of thus far. As far as drummers go, Longineu Parsons (Yellowcard) was always one of my favorites to watch while I was growing up, and being able to share the same stage with him every night was such an honor and a great learning experience for me. Of course being a female drummer, I also looked up to drummers and percussionists such as Sheila E, Karen Carpenter, and Cindy Blackman. Without seeing these prominent females in the male-dominated drumming world, I probably wouldn't be a drummer today.
A typical question I receive quite often is, "Why aren't there more female drummers"? After hearing this question over and over again, I came to realize that a more salient question is, "Why aren't more female drummers playing at a higher level"? There are tons of girls drumming out there, but unfortunately many of them become discouraged and simply consider drumming a hobby. We are striving against a barrage of criticism, and giving up seems to be the easy way out. I'd be lying to you if I said I didn't face the same struggles that all female drummers face before establishing themselves. I knew that before I was even given the chance to prove myself on stage, there would be a preconceived notion of me as a drummer. I remember playing one of our first shows in L.A., and the sound engineer didn't let me check my own drums. He even stated, "Don't worry, I'll hit them like a girl." Since then I've often been told that I hit harder than most male drummers, so I guess I owe him a big thank-you for fueling my fire.
For those of you interested in gear, I play a four-piece SJC Custom drumkit, accompanied by four Sabian cymbals: 14″ AAX Fast hats, a 20″ Metal crash, a 22″ HHX Legacy ride (I use this to crash on), and a 21″ HHX Legacy ride. My wonderful friends at Vater were nice enough to customize my Universal Sticks with my signature and band logo printed on them. I am truly honored and grateful to be a part of these remarkable companies. Advertisement
Thanks for reading my ramblings once again, but that's all for now! Check out our new album, Everything's Fine, and check us out on tour this summer with We the Kings.
For more on Jess Bowen, go to thesummersetband.com.
To see Jess' older blog post on Modern Drummer go here: moderndrummer.com/2010/08/jess-bowen/