RHCP's Chad Smith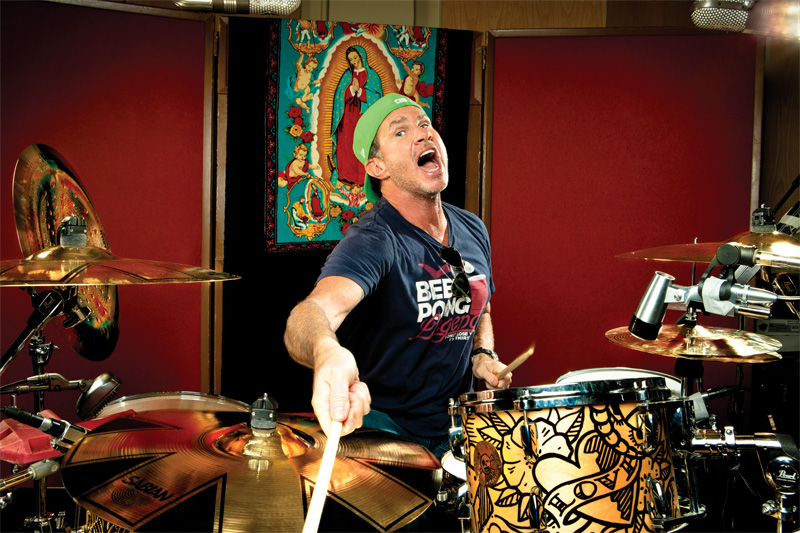 by Adam Budofsky
This summer MD got to hang out with Chad Smith at his apartment in NYC for a few hours, rapping about his recent Red Hot Chili Peppers, Chickenfoot, and Meatbats projects, all of which you can read about in the new issue of Modern Drummer. After a few hours, Chad treated us to lunch at a local eatery, where we picked up our conversation by talking about the records that influenced him as a young drummer.
Chad: My sister was five years older than me, and she was into Elton John, Three Dog Night, the Beatles…kinda soft stuff. I liked that music, but the Beatles weren't Led Zeppelin and Deep Purple, which appealed to me more as a drummer. I remember staring at album covers and looking at what the guys were wearing, learning who played guitar…. As a musician, I was interested in learning all that stuff. I wanted to know who played on what, where it was done….
I was probably nine or ten when I started being aware of that stuff—'70 or '71. Stones records—Sticky Fingers…. It was all these English bands, like Humble Pie, Pink Floyd, Black Sabbath with Bill Ward, Led Zeppelin, Keith Moon with the Who—Odds And Sods, Meaty Beaty Big And Bouncy, Quadrophenia…. Robin Trower's Bridge of Sighs—with drummer Reg Isadore. My brother Brad had Queen II—I remember before we moved to Michigan from Chicago, the older brother of a friend of mine said Queen was the next Led Zeppelin. So when Queen II came out in '73, Brad was like, "I gotta have it!" It didn't have any hits but it's a really good record. Advertisement
And then it was American bands like Grand Funk, the Doors, Aerosmith, Kiss in '74, '75, Credence Clearwater Revival…. In four years, Credence put out half a dozen albums—serious, creative records. I remember that picture of Doug Clifford on the ten-speed bike on the cover of Cosmo's Factory.
 MD: From a drumming standpoint, who did you first focus on?
Chad: Ian Paice from Deep Purple. Brad had all the hard rock and blues and English bands' records, including Deep Purple's Machine Head, which had "Smoke on the Water."
 MD: Were you taking lessons at that time?
Chad: No, I was playing along to the records, and not well. [laughs] Brad, God bless him, embarrassed me at my fortieth birthday party with a tape from my dad's going-away party in Chicago in 1973. We had a band and we were playing "Gloria" and "Light My Fire." We played "Fire" by the Jimi Hendrix Experience too, and every four bars there's a bad fill. It was horrible—horrible! [laughs] But I loved Jimi's Smash Hits record. I liked a lot of the guys from that time who had a jazz background, like Mitch Mitchell from the Experience. I tried to emulate Mitch and Bill Ward and John Bonham because they all had that jazzy swing. That seeped into my playing, and I'm thankful to this day. Later I got into Stewart Copeland and Neil Peart and other guys who were great drummers, but that swing thing is still what I love.
Then there's Humble Pie. I got to talk to their drummer, Jerry Shirley, the other day—so sweet and nice, telling stories. He's doing a book. One of a kind. He didn't have any means when he was young. He joined the band when he was sixteen, and it was like, Boom, go! Records, touring. He was twenty-three when the band stopped. And he's happy and grateful and not bitter. Advertisement
MD: A while ago you were telling me about some Ted Nugent albums.
Chad: Cliff Davies from Ted Nugent's band—I don't know what happened to him, but he used to produce those records. I remember seeing that: "The drummer's producing? Huh."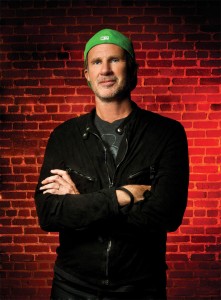 MD: How about Alice Cooper?
Chad: Billion Dollar Babies—wore that thing out. Neal Smith was a good drummer, he had parts. And he looked so cool with that long, greasy hair. Big kit, double bass, mirrored mosaic.
MD: How about Bad Company?
Chad: Their first record—awesome. Simon Kirke: pocket, big drums. I've befriended Simon, who lives in the city and has a place on Long Island. I've done benefits with him for the Right Turn treatment center for musicians; we double drum at it. Simon's got great stories—he's got the Bonham stories. He was another one who started when he was like seventeen, in Free.
Another American band: Lynyrd Skynyrd. Artimus Pyle wasn't the original drummer, but he's on Street Survivors and the live album. Street Survivors is a good drumming record. It sounds very Simon Kirke-ish to me—no bullshit, powerful, confident, perfect for the song.
MD: What was your first concert?
Chad: Blue Oyster Cult, in 1974, when I was thirteen. I wasn't a huge fan, but I was going to the concert because Kiss was supposed to open for them. I was a big Kiss fan at this time. Brad used to give me shit, but I was like, "They breathe fire, and the drumkit goes forty feet in the air!" I bought all that—hook, line, and sinker. Advertisement
My buddy Brian and I were huge, die-hard Kiss fans. So we go to Pine Knob Music Theatre—where years later I rehearsed with this band—but Michael Quatro, Suzie Quatro's brother, ended up opening up. It wasn't quite Kiss. But it was my first concert and I dug the whole experience—the coolers, the girls…. It's 1974 and I'm like, "This is awesome."
Then Kiss came to Cobo Hall on May 16, 1975, and this was back when you had to write in to the Cobo Hall box office for tickets. Your mom gives you a check and you send it in. So Brad tells me that this friend of ours, Jackie Davidson, who used to go to every show—when he saw that Eric Clapton was coming he wrote this little note with his ticket request: "Please, I would like tenth row, on the aisle." "Yeah, really? Okay, it's worth a try." So I write, "Dear ticket lady, Kiss is my favorite band. Please, if it's possible, can I have four seats, tenth row, on the aisle"? Two weeks later—twelfth row, on the aisle! How awesome is that?! This was like two months before they were coming, and it felt like an eternity. My mom was like, "Okay, but you have to be really good." I had to try not to get grounded for two weeks.
So we go to the famous Cobo Hall. And if you look at the back of the Kiss Alive album, there's these two kids holding a homemade Kiss poster. And me and Brad and Brian and Jackie Davidson were all sitting in the twelfth row, and in the sixteenth row we see Fin Costello taking pictures of those kids. We watched the whole thing. So the album comes out, and that's the back cover. I'm like, "I was there!" My friends are like, "B.S.!" "No, I swear!" And since then I've had people write to me, "I heard you were in the picture at Cobo Hall," and I'm like, "No, no, I wasn't in the picture—but I saw it happening…." Advertisement