Tre Stafford of Adelitas Way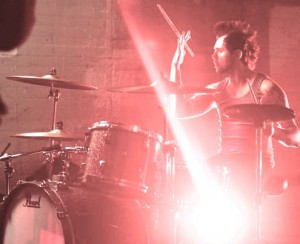 Hey, MD readers! This is Tre with Adelitas Way. Thanks for taking the time to read this. Currently we are on tour promoting our second album, Home School Valedictorian. Our first single, "Sick," hit #1 on the active rock charts this week, and it's a pretty unreal feeling!
Since my last blog for MD, Pearl drums and Sabian cymbals have picked me up. Both companies treat me amazingly and provide me with great-sounding and durable equipment for touring.
In the past couple of years of touring I had the honor of sharing the stage with Chad Szeliga from Breaking Benjamin. He's an amazing drummer, and I would sit behind him every night and just soak in his techniques. He sat down with me and taught me better posture and stick techniques as well as rudiments, most notably the six-stroke roll, which he incorporates a lot into his playing, and which I do now as well.
Another sick drummer I've been learning a lot from is Morgan Rose from Sevendust, who I would watch every night as well. If you get a chance, check out some videos of these guys—they're both amazing drummers! Advertisement
Thanks again for taking the time to read this, and hopefully I'll be seeing you guys on tour. Peace!
For more on Adelitas Way, visit http://adelitaswaymusic.net. Photo by Kristian Dowling of Picturegroup.