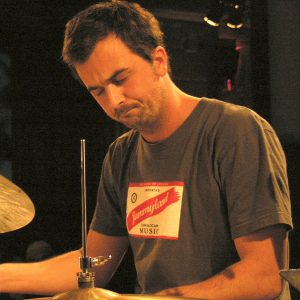 My name is Joao Lencastre and I was born in Lisbon, Portugal. I started to play the drums at the age of thirteen. Since I started playing I've been collaborating with many different groups in all styles of music, including metal, reggae, Afrobeat, electronic, big band, alternative rock, and all kinds of jazz. I also lead my own jazz group, Communion. I've released three records to date, One! and B-Sides on Fresh Sound Records, and the most recent one, Sound it Out, on the Portuguese Label TOAP. Besides my own group, I co-lead a free improvisation piano trio called No Project and a duo with guitar André Fernandes. I also play with the alternative rock group Tiago Bettencourt & Mantha.
It's a huge honor to have had the chance to record and share the stage with some of my favorite musicians in the world, such as David Binney, Thomas Morgan, Jacob Sacks, Bill Carrothers, Phil Grenadier, André Matos, Joao Paulo Esteves da Silva, and André Fernandes. Among my drumming influences are Tony Williams, Paul Motian, Jack DeJohnette, Ed Blackwell, Gene Krupa, Shelly Manne, Elvin Jones, Brian Blade, Dan Weiss, Tyshawn Sorey, Eric Harland, Tom Rainey, Kenny Wollesen, Tim "Herb" Alexander, Dave Grohl, Mitch Mitchell, Tony Allen, Deen Castronovo, Keith Moon, Carlton Barrett, John Bonham, Keith Carlock, Dave Lombardo, Lars Ulrich, Gerald Cleaver, and Papa Jo Jones. I also get very inspired by non-drum records—solo piano, or any other format without drums. A good movie or a book can also be very inspiring.
When playing with a band, especially a jazz group, I like to react to what I'm listening to, and I try to never think about patterns or licks. One good thing to practice is play different groups of notes within each rhythmic subdivision. For example, play triplets and accent every other note, then every third, every fourth, every fifth, and so on. Do that with all the subdivisions, invent your own stickings, and orchestrate them around the kit. Then do the same over two beats. It's an endless world and it has helped me a lot in getting my time more solid and having fresh ideas.
For more on Joao Lencastre, go to www.joaolencastre.com or www.myspace.com/tiagobettencourt.