Colin Cunningham of Oh No Fiasco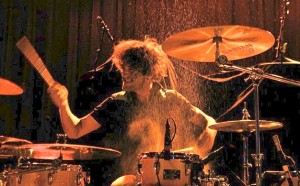 My name is Colin Cunningham, and I play for a band called Oh No Fiasco. First of all, I'd like to thank Modern Drummer for offering me this blog! Here's a little about me: When I was young my father was a drummer and played in several bands. I received my first drumset at six and set it up next to his. I must say, the smaller set didn't really appeal to me. The next year I was big enough to play his 1980s Rogers Maple kit. Over the next seventeen years I developed kind of a knack for it, and now I've been teaching and touring professionally since I was twenty.
My band Oh No Fiasco has roots that go back to when I was still in high school, playing with my buddy Thomas. Five years later the band included my brother Kamryn, guitar player Seth Rowlette, and singer Lindsey Stamey. Now I devote myself to the band, which is a truly creative outlet for me. In the past I'd found it difficult to put together a creatively congruous group of individuals without some kind of friction—and this band is certainly an exception. Each of us pushes the other to reach further and further outside of our musical comfort zones, and because of that I've been able to take influences from several different genres.
When I'm at home, I teach. That also started when I was in high school, when short staffing left our band director with no one to instruct the drum line and he asked me to help out. Since then I've found teaching to also be an outlet, and it constantly challenges me to rethink the fundamentals that I've built on. Advertisement
I start every workout alternating singles, doubles, paradiddles, and triple-stroke rolls against a click at gradually increasing speeds. Being able to consciously subdivide counts is essential for all drummers, and starting out with simple strokes and varying metronome counts is a good way to get your brain warmed up.
One thing I've recently started doing is placing another floor tom on my left-hand side. I've taken influence from Larry White, Dennis Chambers, and Lester Estelle Jr. on this. Setting up in this arrangement allows even simple ghost-note patterns that are normally played on the snare drum with the left hand to be played on a tom. I recommend this particularly to gospel players. I've also found that it adds another element to the show.
Thanks again to MD for the spotlight; hopefully I'll see some of you out on the road.
For more on Colin Cunningham and Oh No Fiasco, go to www.ohnofiasco.com. Photo by JV Photography.