Pro-Mark Small Broomsticks and Jordison Autograph Series Additions

PMBRM2 Small Broomsticks are shorter (14 1/2″ long) and smaller in diameter (.800″) than Pro-Mark's regular Broomsticks. This version produces a sound that falls between brushes and Hot Rods. List price: $32.95.
The Joey Jordison PW515W oak Autograph series drumstick is identical to the Slipknot drummer's popular hickory model (TX515W)—16″ long and .551″ in diameter, with a slim neck for fast rebound and a round wood tip for articulation. List price: $17.95.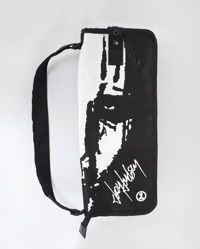 Jordison's stick bag is made of black Cordura-type material. Two large inner pockets, a mesh inner pocket, and additional inner and outer pockets provide ample storage, and a sturdy handle and adjustable shoulder strap make for easy transport. List price: $47.95. Advertisement