Ezra Oklan with Nicole Atkins & the Black Sea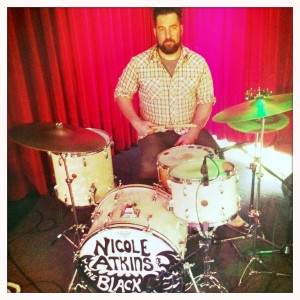 Hello, moderndrummer.com readers! My name is Ezra Oklan, and I'm a thirty-three-year-old drummer based out of Brooklyn, New York. I've been writing music, recording, and playing since I was eight years old. I studied at the New School for Jazz and Contemporary Music in NYC. I'm versed in many different styles of drumming, so I've had the pleasure of playing with an assortment of talented bands and singer-songwriters based out of NYC, including Nicole Atkins, Oakley Hall, John Southworth, Ari Hest, and Colin Smith, to name a few. For the past year I've been touring and recording with Nicole Atkins & the Black Sea.
Over the last year I've played some amazing shows with Ms. Atkins. We had the honor of supporting the Black Keys on a Midwest and West Coast tour. Those were some of the most amazing shows I've ever had the opportunity to play. We performed on Conan O'Brien, and Late Night with Carson Daly showed a couple of our sets from SXSW. We also hit Sun Studio sessions.
Playing late-night TV had always been a dream of mine, and playing in front of millions of viewers was an amazing and slightly nerve-wracking experience. Sun Studio was equally amazing. So many artists that have influenced me and continue to shape the way I play the drums have been recorded there. Their legacy is alive and strong, and their energy lives on at Sun Studios in a very tangible way. I swear I felt the ghost of Johnny Cash breathing down my neck—and Elvis yelling at me to play faster! Also, SXSW was a ton of fun. We were voted "Best Live Band" of SXSW in Spin magazine. All in all, it's been a great year! Advertisement
Now that I've told you a little about myself and what I've been up to, I want to talk about my experience playing Bonnaroo over the last few days. It was the first week of a month-long tour with Nicole Atkins, and our first show was an outdoor venue in Indianapolis supporting Booker T. and the Black Keys with 8,000 people in attendance. Amazing. Both Booker T. and the Black Keys destroyed it, and were very cool to hang with. Our second, third, and fourth shows were at Bonnaroo. This was my first time playing Bonnaroo, so I had no idea what to expect. I have played other major festivals before—recent ones being Mountain Jam in New York and Appel Farms Arts and Music Festival in New Jersey—but nothing of this magnitude.
We rolled into Manchester, Tennessee, in our 350 Ford Econoline and stopped at a Holiday Inn to get our passes for the festival. A nice woman gave us the skinny on where to park and how to get to the artists' tent. After several wrong turns, we finally made it to guest parking, flagged down a golf cart, and hitched a ride about a mile down the dusty road to the artist area, which was located in back of one of the two main stages. We dusted ourselves off, walked into the artist tent, and were instantly surrounded by musicians, actors, comedians, photographers, and a few fellow bands that we knew from back in NYC. We did a photo shoot with world-renowned photographer Danny Clinch, and then went into the artist tent to cool off. While Nicole did some press for our upcoming shows, I decided to explore backstage and hang for a bit before we had to take on the grueling forty-five-minute trek back to our hotel. In a matter of ten minutes, I managed to hang with Kareem Abdul Jabbar, Ron Jeremy, Zack Braff, and J.B. Smoove. Not too shabby! And, of course, I invited all of them to our upcoming shows scheduled for the following day.
Nicole came back from her Q&A panel with Ben (from Ben & Jerry's), Steven Stills, and Daniel Lanois, and we moseyed on back to the hotel. But first we stopped in at the backstage studio to play a quick three-song session for Bonnaroo Radio. Advertisement
The next morning we made the same trek back to the farm, parked the van, loaded our gear into a truck, and headed to our first show out of three that day. The first show was big, a few thousand people. After our hour-long set, we had to make a mad dash to a smaller stage all the way on the other side of the festival for our second show of the day. We hopped on a golf cart and rode through the packed crowd. It was like driving through the streets of New Delhi. Our driver was literally running over peoples' toes! We made it to our set in the nick of time and hustled up on stage to play for a very boisterous crowd. We finished our set, had a quick meet 'n' greet with some fans, and hopped onto another golf cart heading to our next show. I was so spent at this point that I don't remember much about the last show except that it was a full tent with air-conditioning. After that set, we went back to the artist tent, got some grub, and went to the side of the main stage to watch a little band called Buffalo Springfield destroy it. Neil Young popped it off by saying "We're Buffalo Springfield. We're from the past."
After having our minds blown, we drove in silence back to our hotel.
By the way, did I mention Bonnaroo was hot? I mean, REALLY hot. Bring some shorts if you ever go!
You can follow me on twitter @EOKLAN, and find our tour dates at www.nicoleatkins.com.