Chip Ritter — All About Showmanship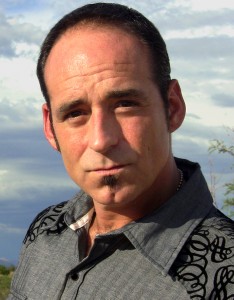 Hello, Modern Drummer readers! My name is Chip Ritter and I'm a drummer/instructor from Tucson, Arizona. As long as lights are pointed at a stage, I think showmanship will continue to play a vital role in live performance.
One of my earliest drumming/showmanship memories is watching my brother's high school marching band perform many years ago. I remember the sheer power and volume of the drum line clearly; I also remember the crowd's positive reaction to it. Towards the end of their solo, the drummers in the line did a big wave. The wave started at the cymbals, then went through the snares, quads, and bass drums, creating what looked like a gigantic slithering creature. At that point in my life, it was the coolest, most aggressively awesome display of drumming that I had ever witnessed. It was physical action, it was drumming movement far above and beyond the call of duty, and it rocked. I was in love. To this day, when I think about why I love drumming, it's one of the top events that I believe helped kick start my love affair with drums.
Fast forward to May of 2004, I got to do my own "stupid human trick" on The Late Show with David Letterman, juggling three drumsticks while playing my drums. That was one of the very biggest and best days of my drumming life, and I am very grateful it happened. Many people I've had the pleasure to meet since then have often expressed approval of that clip. I have home video footage from 2010 that shows Usher's Aaron Spears juggling three oranges for me backstage in Texas. He's one of the nicest drummers I've ever had the good fortune to meet, aside from being one of the best players. Advertisement
Speaking of players, Thomas Pridgen told me I was "rad" in front of my fiancé, Carol, and two other friends of mine. (I have witnesses! I can prove it, LOL!) What I'm really trying to say (aside from bragging to you all about getting to meet really cool famous drummers) is how could I as a drummer not be totally thankful and proud of a comment like "rad"?
Some stuff I personally think is rad: Buddy Rich playing his drums upside down on TV, John Blackwell cutting through the air like a ninja, and Alex Van Halen rocking FIVE bass drums. That's rad! Of course I have also heard from some who have a completely opposite outlook on showmanship from mine, but that would be better covered in their own MD blogs.
I've been a professional drummer for over twenty years, and I'm still trying to get the most fun that I can squeeze out of life at any given time. I still love all of it, and I still look at showmanship as a good thing. Advertisement
Thank you all for your time, and thank you, Modern Drummer!
To watch Chip Ritter juggling drumsticks on The Late Show with David Letterman, go to www.youtube.com/watch?v=hAOiCustZtk. For more on Chip Ritter go to www.chipritter.com.