Drummers, On the Beat
Adam Pierce of All Shall Perish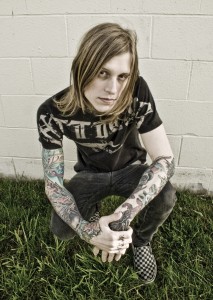 Hey, MD readers, my name is Adam Pierce, and I play in the Bay Area extreme metal band All Shall Perish. I'm very honored to have been asked to write a blog for moderndrummer.com. I grew up idolizing the featured drummers in the monthly issues of Modern Drummer magazine and I am very excited for this opportunity.
I began playing drums when I was twelve years old, when my cousin and I decided to start a cover band. At first we were unsure who was going to play what, but it soon became apparent that I would be the one to pick up the drums, seeing how two of my uncles were both drummers. Soon after, my cousin and I begged our parents to buy us our instruments. I fortunately was able to borrow a drumset from my uncle and began taking drum lessons in the fall of '98. I continued taking drum lessons for three years, until I felt that I needed to grow and find my own way as a musician. Taking lessons taught me a lot, but I soon learned that one of my biggest teachers would become playing along to my favorite records.
Early on, my uncle Doug was a huge inspiration in my playing. He exposed me to a lot of new music. He is responsible for giving me the extra push I needed to really work at making music my career. I remember watching King Crimson's live DVD Deja Vrooom with him and realizing at that moment I wanted to make music for a living.
To all the aspiring drummers out there, I cannot stress enough that you follow your dreams and not let anyone stand in your way. Only you can make it happen.
I currently endorse Ddrum drums, Meinl cymbals, and Axis percussion. I'm using the Ddrum Dios bamboo 14″ snare drum—absolutely an amazing-sounding drum, one of my favorite snares. My setup also includes the Dios Maple 10″ and 12″ rack toms, a 16″ floor tom, and two 22″ kicks. I use an assortment of Meinl cymbals, my favorites being the 16″ Generation X Filter China and my 17″ and 19″ Soundcaster Custom crashes. As for pedals, I use the Axis Longboards with EKITs. The E-kits are great for drummers who want to trigger but don't want to deal with the hassle of normal acoustic drum triggers, which can misfire from stage noise.
For more on Adam Pierce and All Shall Perish, go to www.allshallperish.com.