A Different View: <BR>Duff McKagan
Bassist Duff McKagan is a founding member of Guns N' Roses, Velvet Revolver, and his own band, Loaded, who've recently released their third album, The Taking. Duff is also a drummer, and he's worked with a number of legends of punk and pop drumming, including Clem Burke, Stewart Copeland, and Dave Grohl. Needless to say, Duff knows what ingredients make for a strong rhythm section. Here he discusses his work with several elite drummers, including his current stick slinger, Isaac Carpenter.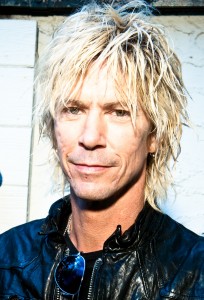 by Mike Haid
Steven Adler (Guns N' Roses)
Steven Adler and I learned how to groove together and become a true rhythm section. It's when we started to work in concert with one another that we really become a rhythm section and created a groove. A band is only as good as its rhythm section. We spent a lot of time together playing along to Cameo and Sly Stone's music. We also got rid of a lot of Steven's drums. We took his kit down to a kick, snare, and floor tom with a crash, ride, and hi-hats. He created more of a pocket with fewer drums.
Matt Sorum (Guns N' Roses, Velvet Revolver)
Guns N' Roses auditioned about thirty drummers between Steven Adler and Matt Sorum. We discovered that a strong groove is not something that every drummer has. Matt came in and nailed it. His time, pocket, and groove were world-class. He had chops and was a real professional. He also had the anger and Keith Moon–like craziness with a John Bonham lazy kick feel. Matt makes my job as a bass player easy and enjoyable. There is always tension in our relationship, but we like it because it creates electricity in our playing. Advertisement
Kenny Aronoff (Iggy Pop's Brick By Brick)
I played on an Iggy Pop record with Kenny Aronoff. He's another world-class player with a great pocket and can play anything. He's a lot of fun and a crazy dude!
Abe Laboriel Jr. (Duff's solo album Beautiful Disease)
He's one of those guys that can play any instrument and sings incredibly well. A guy like Abe becomes more of a musical partner in the studio as opposed to just a player.
Clem Burke (Mad for the Racket, also known as The Racketeers)
Clem's a very quiet guy until he sits down to play, then he explodes. He has a great feel and is one of my drumming heroes. I grew up listening to him and it was an honor to play with him.
Dave Grohl (Slash's self-titled CD)
We were friends for years before we finally played together. When we did, everything felt fresh. Slash gave us a riff and we had to learn it and own it within a couple hours. We both came up in the punk era, and there's a ferocity that's second nature in our playing. Dave also understands finesse and serving the song first.
Stephen Perkins (Jane's Addiction 2010 shows)
He's a magical little dude! As a bass player, you have to roll with his feel. As a live drummer, I thought that what he was playing shouldn't work, but it did. He's like a mad genius.
Stewart Copeland (Mad for the Racket's self-titled album)
He's another guy like Perkins who plays things that shouldn't work but that do. He likes pushing the time, too. He doesn't really care so much about the click. He likes it to be a bit of a rollercoaster ride. We established good communication and made it work.
Isaac Carpenter (Duff McKagan's Loaded)
Isaac is a complete musician who plays every instrument well, and it all comes easy to him. He played guitar in a GnR cover band in sixth grade and shredded it! His band Loudermilk was groundbreaking, mainly due to his drumming. Isaac was "the guy" here in the Tri-Cities area. When our drummer, Geoff Reading, had to leave the band, we called Isaac, and surprisingly he jumped on it. Isaac makes any band better. He was very instrumental in the writing process of the new Loaded CD, The Taking. He played all the instruments on "Wrecking Ball," for instance. And he recorded and edited all of his drum parts in three days. He knows Pro Tools and mikes/engineers his own drums. I'm not surprised at all that Adam Lambert grabbed Isaac to tour with him. Isaac is a force, and you want him around from the writing process to the live shows. He's very aggressive with a great feel and pocket, and has a great musical scope of reference when writing and recording. He's a total package! Advertisement
Look out for an interview with Isaac Carpenter in the August issue of Modern Drummer.