Ryan Shutler of Lazarus A.D.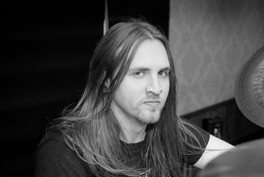 Hey, MD readers, my name is Ryan Shutler, and I play drums for the metal act Lazarus A.D. I've spent the better part of this year touring in support of our new album, Black Rivers Flow.
I was born in Gurnee, Illinois, and I currently live in Kenosha, Wisconsin. I started playing drums at a very young age, probably around three. I got my first Pearl drumset from my dad, who was also a drummer. Ever since then, it's been my life.
The first Modern Drummer I ever read was the April 2000 issue with Manu Katché on the cover. Back then I was first starting to get into the whole band thing, and that was my first way to find tips and tricks from the pros. I actually have an unopened copy of the May 2002 issue, with Mike Portnoy on the cover. I'd recently seen Dream Theater for the first time, on the first leg of their Six Degrees tour—the first time I saw three bass drums and a drumkit that massive onstage. I'm a huge fan of giant drumsets, and it's been great being to be able to see what some of my favorite drummers' kits are like and to read why they play the way they do.
Like I said before, I started playing very young. I'll never forget my first "real" drumset. I was about five, and I came home one day to a seven-piece Pearl Export kit. At that age, that thing seemed like it was giant. Advertisement
Early on I was really into the stuff my dad jammed to, like Rush and Kansas. But as I grew up I started listening to heavier things, like Metallica and Pantera. When I was twelve I started a band around my hometown. Years later, half the members and I started Lazarus A.D., which is where I am today. We're currently signed to Metal Blade Records and have released The Onslaught and most recently Black Rivers Flow. We've toured with such acts as Testament, Amon Amarth, and Kreator. To this day my main influences vary from Neil Peart to Gene Hoglan, not to mention all the people I've toured with that I may have taken some small piece of quality advice from to help me be a touring drummer.
As far as my equipment goes, I play a maple Pearl Export Pro set I've had for a while. It still sounds good, so why fix what's not broken? I recently started using Paiste cymbals—which are the loudest cymbalsever—Evans drumheads, and Vic firth sticks. It's taken years to find what I like, but I think I've got it now. It's always hard for a drummer, though—price is never your friend, ha ha!
I recently got back from touring Europe in support of Black Rivers Flow. What a time! It was really different and an amazing experience, and I can't wait to go back. Granted, we had our highs and lows out there, but overall it was great. I'm not home for long, though, because we'll be out with Cavalera Conspiracy most of May. So this tour cycle is far from over! Advertisement
Thank you, MD, for having me, and thanks to everybody for reading. Until next time!
For more on Ryan Shutler and Lazarus A.D., go to facebook.com/lazarusad.