Phil Rudd: The Very Definition of Rock Drumming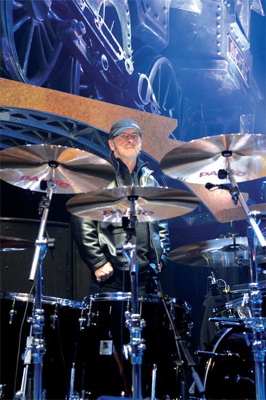 When many musicians and fans think about no-nonsense, rock-solid, play-for-the-song drumming, the first name that comes to mind is Phil Rudd. The Australian drummer played in several Melbourne bands, such as Buster Brown and the Coloured Balls, before joining up with would-be rock gods AC/DC in 1975. Over the next four years Rudd powered the band to superstardom with his dogged consistency and unshakeable backbeat on classics like "It's A Long Way To The Top (If You Want To Rock 'N' Roll)," "T.N.T.," and "Dirty Deeds Done Dirt Cheap."
In 1980 original AC/DC frontman Bon Scott died as the result of alcohol abuse. Rudd was hit hard with the tragedy but continued on with the band—along with new vocalist Brian Johnson—to record their most successful record to date, 1980's Back In Black.
In 1983, during the recording of Flick Of The Switch, Rudd left AC/DC, partly from his own substance abuse issues and partly from escalating conflicts with founder and rhythm guitarist Malcolm Young—conflicts that eventually became physical. For the next decade, the drummer lived a quiet life in New Zealand, where he purchased a helicopter company, raced cars, became a farmer, and played drums, as he said, "when I wanted to rather than when I had to." Advertisement
During AC/DC's 1994 Razors Edge World Tour, the group called on Rudd to jam and soon after brought him back into the fold. Since then, Rudd has recorded a number of albums with AC/DC, including 2008's Black Ice, the band's most successful in nearly thirty years.
To the inexperienced, Phil Rudd's drumming may seem rudimentary. But his unselfish style and humongous groove have earned him the adoration of generations of drummers. Rammstein's Christoph Schneider said in the October 2010 Modern Drummer, "AC/DC were my absolute heroes because they are simple and easy to copy—though soon you find they are not so easy to copy." The magazine's May 2010 issue also chimed in on the timeless rocker with the feature "Reasons To Love Phil Rudd," in which drumming peers from Kenny Aronoff to Eric Singer sang the his praises, describing him as "the rock drummer" and his feel as "the heart and soul of AC/DC."